[ad_1]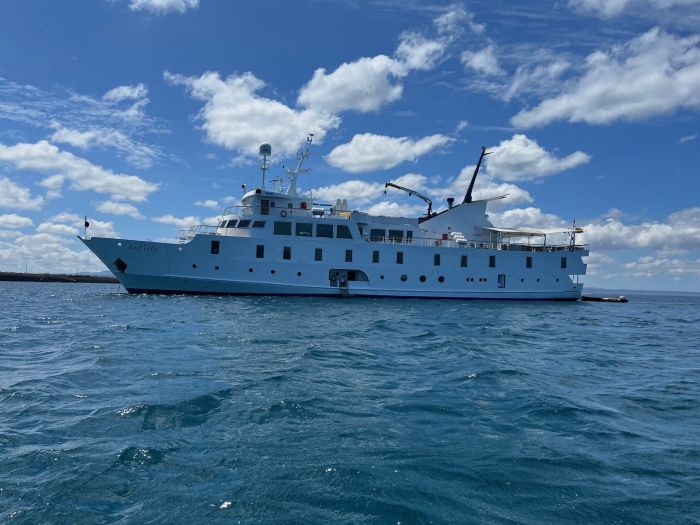 Susan Kime
Long before anthropology became a science-based discipline, there was a perennial argument among anthropologists and others concerning nature vs. culture. The argument was this:  that if you allowed culture and nature to be two separate entities, one not bothering or assuming dominance over the other, then both would thrive. But if one intruded on the other, then problems, Jurassic Park style, might arise.
As the growing trend of luxury, eco-sensitive vacations becomes more alive, many travelers are choosing travel modes that combine both, one enhancing the other.  These combinations used to be rare, but as the trend grows, so do travel options. This unique combination occurred in our Ecuador travels to the eastern Galápagos on the elite La Pinta Explorer Yacht. 
In our experience, the Galápagos was a natural place for a luxury explorer yacht to sail, and we learned much about this yacht,  understanding that sustainable yachts like La Pinta, are the calling cards of the future. Renovated in 2019, the La Pinta Explorer Yacht sleeps up to forty-eight guests per sailing, with luxury and luxury-plus cabin classes. There's a lounge, bar, coffee/tea bar, an onboard fitness facility, a hot tub, and sun deck, a dining room, and an onboard library. The vessel also carries snorkeling equipment, kayaks, wetsuits, and a glass-bottom boat.
But there was a differentiator to this yacht. And this was La Pinta's advances in sustainable sailing. Modern engine technology economized fuel consumption and onboard water desalination.  Desalination is the process by which the dissolved mineral salts in water are removed. Currently this process, applied to seawater, is one of the most used to obtain fresh water for human consumption. It also protects the waters around the Galápagos. La Pinta also has a Carbon Neutral program. This way, Yacht La Pinta can facilitate a carbon-neutral services that are environmentally conscientious and ecologically sustainable, perfect for the Galápagos.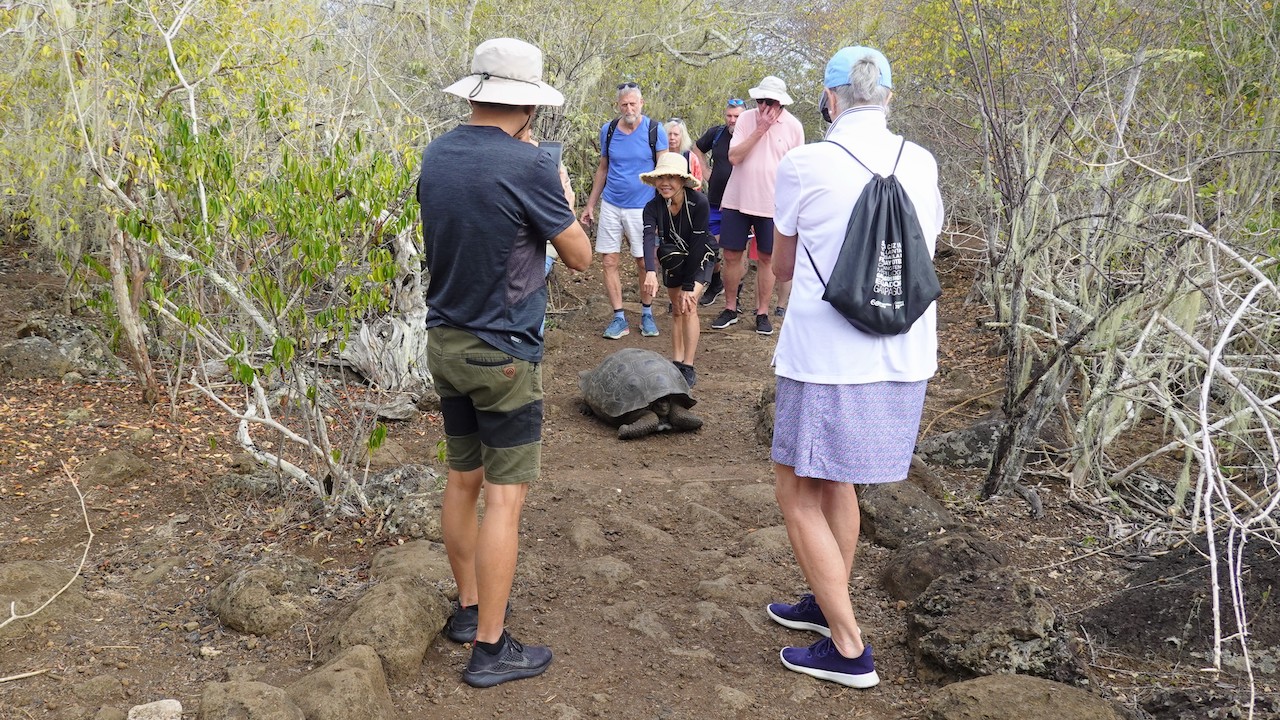 Metropolitan Touring-encountering a Giant Tortoise
Unlike many islands in the world, the Galápagos are basically volcanic peaks, and young ones at that, as they pushed through the Pacific Ocean a mere five million years ago. So, the Galápagos taken as a whole, is a volcanic archipelago – and considered one of the world's foremost destinations for wildlife-viewing. The Galápagos, a province of Ecuador, lies about 490 miles (1,000km) off its western coast. Its terrain allows a multiplicity of animal species, many found nowhere else. 
Metropolitan Touring/La Pinta yacht – Seal Encounter
According to one of the La Pinta guides, explorers started arriving in the Galápagos in the 1800s. The most famous was Charles Darwin, a young – age 22– naturalist who spent 19 days studying the islands' flora and fauna in 1835. He took copious notes on unique plants and animals he saw there, and basically began conceptualizing his book, published many years later called The Origin of Species.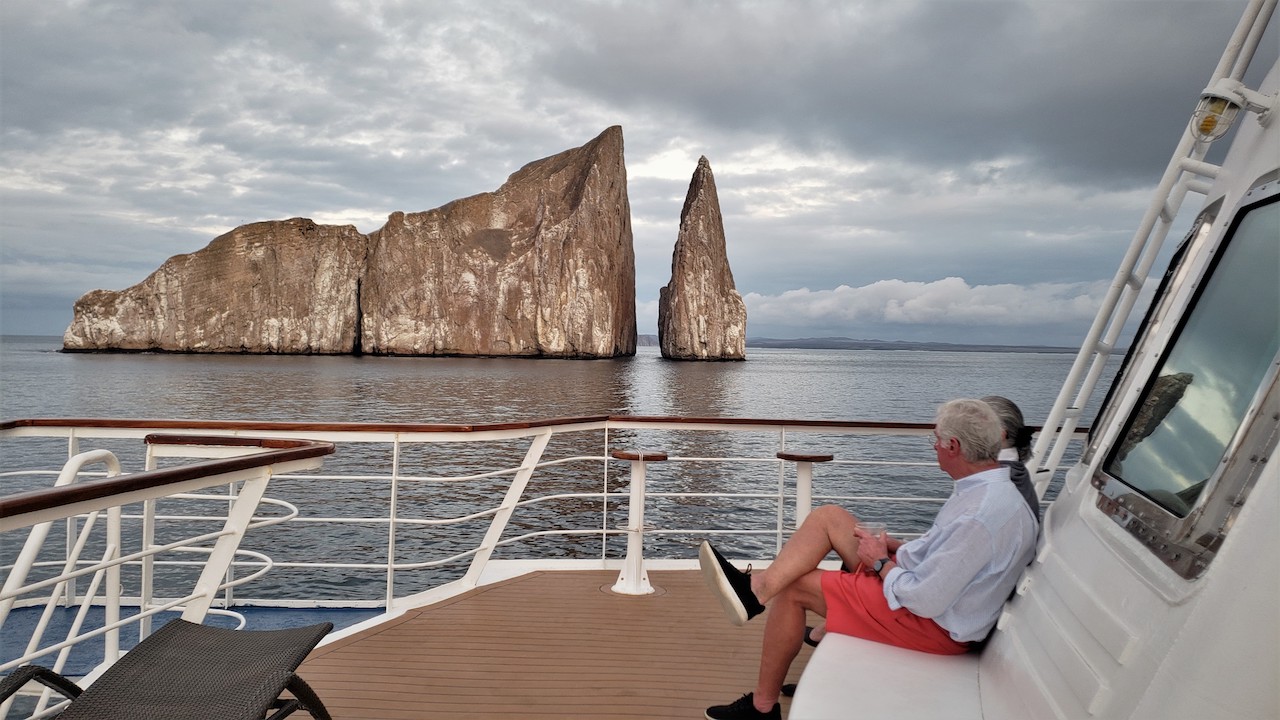 Metropolitan Touring/La Pinta yacht
In our travels around the islands, we saw much of what he saw– the terrestrial contrast being a major one– sandy beaches, sea cliffs, rocky shores, and coral reefs. This wide range of habitats meant a great number of animals and plants could live and indeed thrive on and these islands. In 1959, the Galápagos became Ecuador's first national park, and in 1978, it was named a UNESCO World Heritage site. Today, more than 275,000 people visit the Galápagos every year to see animals and landscapes for themselves.
Now, we were among them, having flown via Latam airlines, from Quito to Guayaquil, Ecuador, and from there to the Baltra island airport.  From there, we took a shuttle to the dock, where we took a RIB boat out to sea, and to La Pinta. 
Our first view of La Pinta was exceptional, as it was a large, white yacht, looking like a floating cloud, reflectively mirrored in the deep blue ocean. It looked elegant, very like a comforting sanctuary, which it indeed was.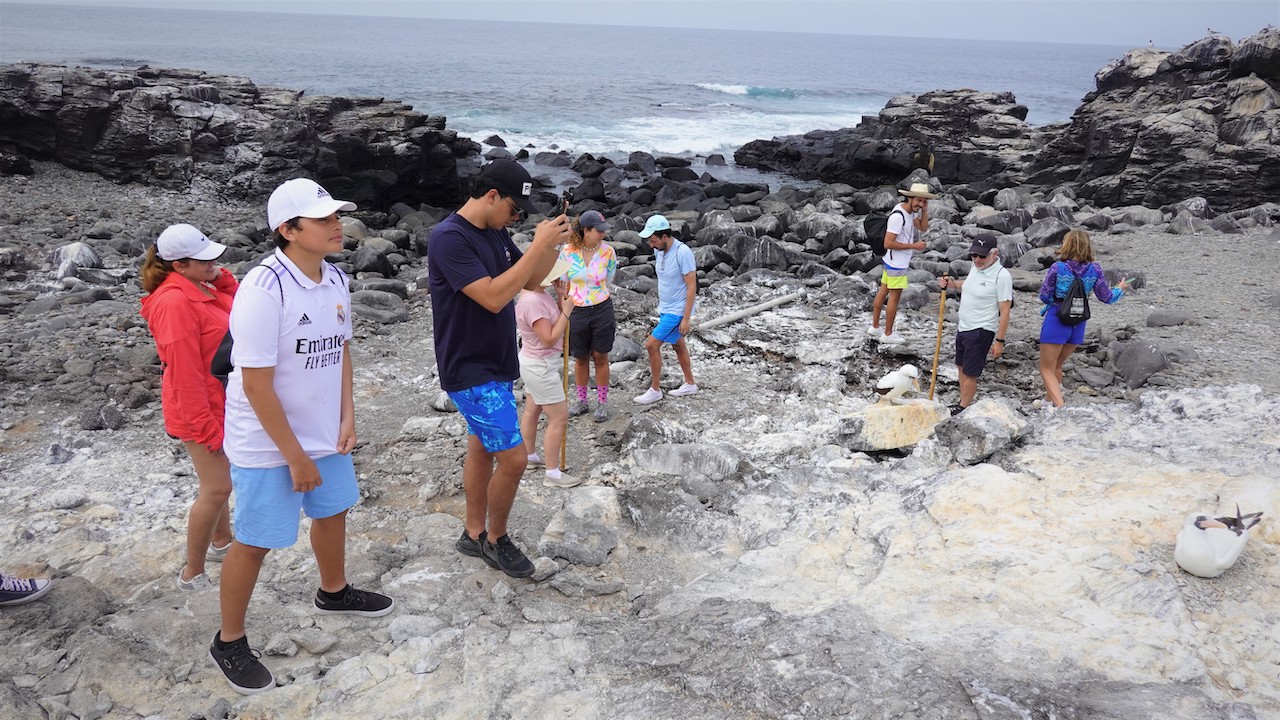 Metropolitan Touring
Taking photos of Galapagos birds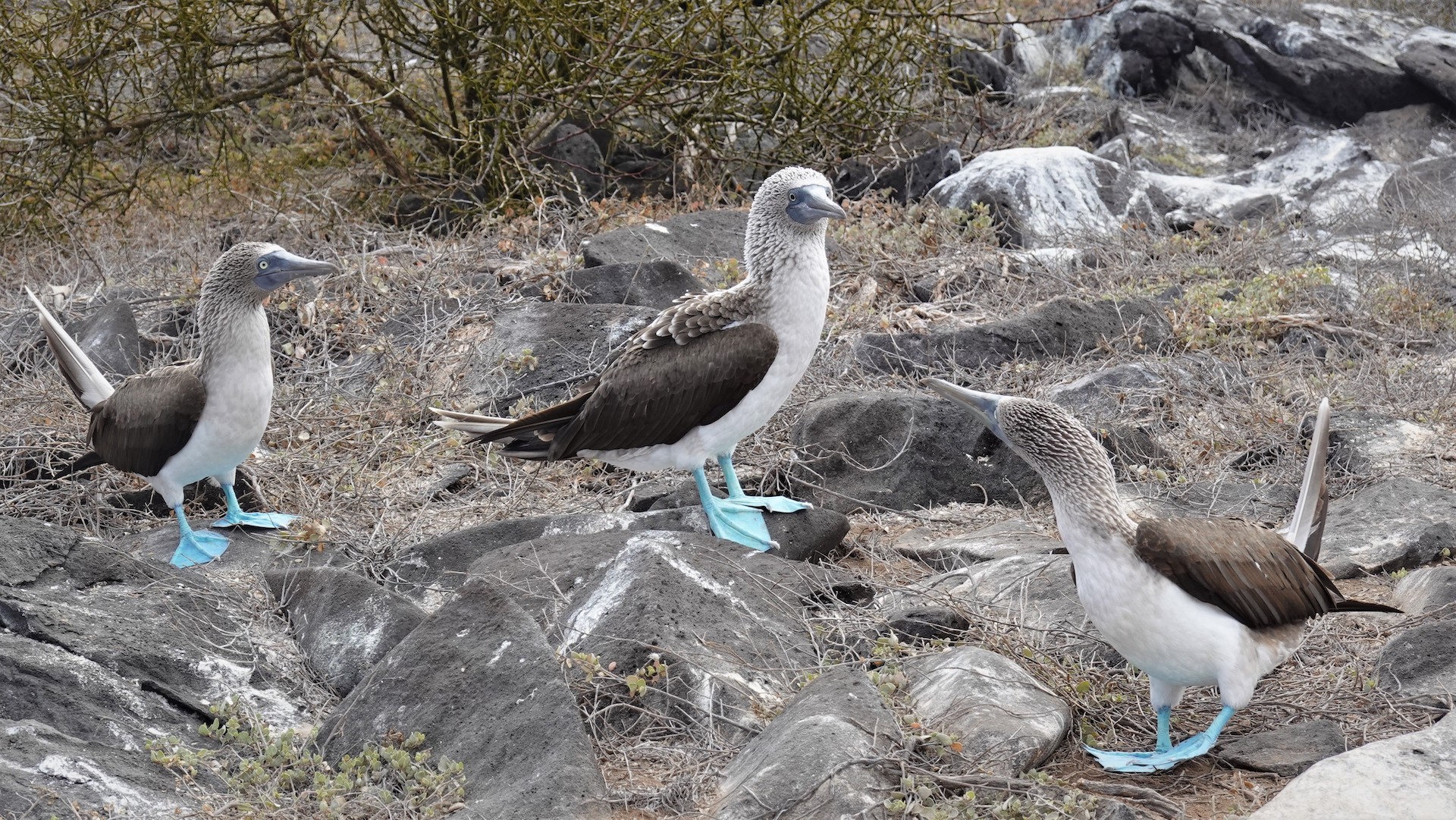 Metropolitan Touring – Blue footed Boobies 
Those of us who went from the RIB boat to the yacht came to know each other well — because there were not a lot of us. There were families, couples on honeymoon, and elderly couples were part of our diverse group. All, it seemed, had an intuitive sense of adventure, and knew what they were hoping to see: blue and red footed boobies, giant tortoises, rare giant land iguanas, small penguins and multiple seals and sea lions– in their native habitats, as nature intended.  
It needs to be said, though, we cruised to the eastern side of the Galapagos only, but each island we visited had endemic animal populations, all living together without argument. After we landed on Baltra, we ventured south, along the volcanic shores of the Santa Cruz Islands.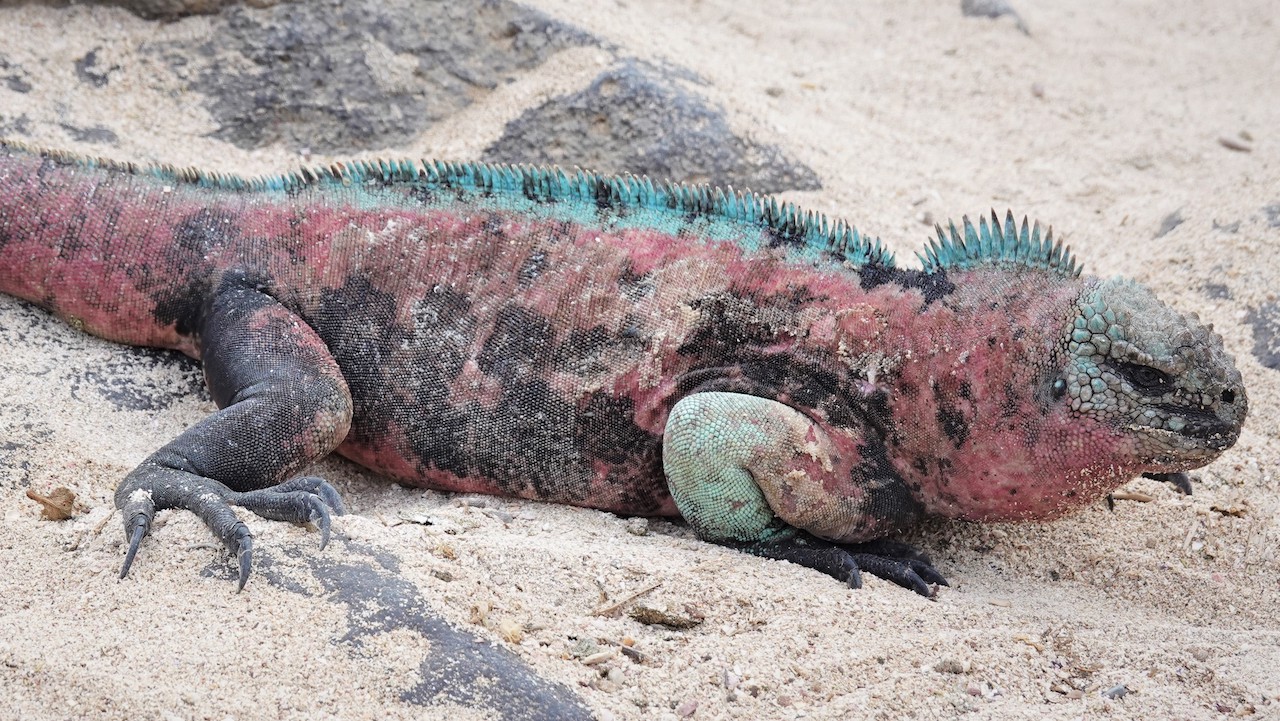 Metropolitan Touring – Giant Marine Iguana
Santa Cruz is part of the Galápagos National Park. It's known for the Charles Darwin Research Station, that has a breeding program for endangered giant tortoises.  We then, in coming days, went to San Cristobal, Española Island and then, South Plaza Island – one of the smallest and, depending on the season, one of the most colorful. Sea lion colonies live with land and marine iguanas. And then, there was Santa Fe Island.
The Santa Fe landscape is picturesque, and one of the islands where we saw prickly pear cactuses. Santa Fe island has the largest variety of endemic wildlife species. According to many, Santa Fe may well be the oldest of all Galápagos Islands, as it is estimated to be at least 4 to 4 and 1/2 million years old. The age of Santa Fe Island has allowed more endemic species live here than on any other Galápagos Island. 
San Cristobal island is one of the places where Darwin went ashore in 1835.  Cerro Brujo, AKA "Witch Hill" is home to sea lions, turtles, marine iguanas, brown pelicans, crabs, and stingrays. Coastal and migratory birds — blue-footed boobies, egrets, and even great blue herons take refuge in the adjacent lagoon.  Cerro Brujo is located on the northwest coast of San Cristobal Island. From there where one can see the León Dormido (Kicker Rock) geological formation. One also sees it from the ocean, miles away.
But then, Española Island, due south of San Cristobal, is well-known for being the sole breeding ground for the entire population of the world's Waved Albatrosses. This area is also known for blue-footed boobies, albatrosses, and Nazca boobies.  Punta Suarez is on the western side of Española and also, bright red Sally Lightfoot crabs dart in and out of the rocks. It bears remembering that for all we saw, there were many other islands we did not explore, due to many island ecosystems that were too delicate for human populations to walk in and on.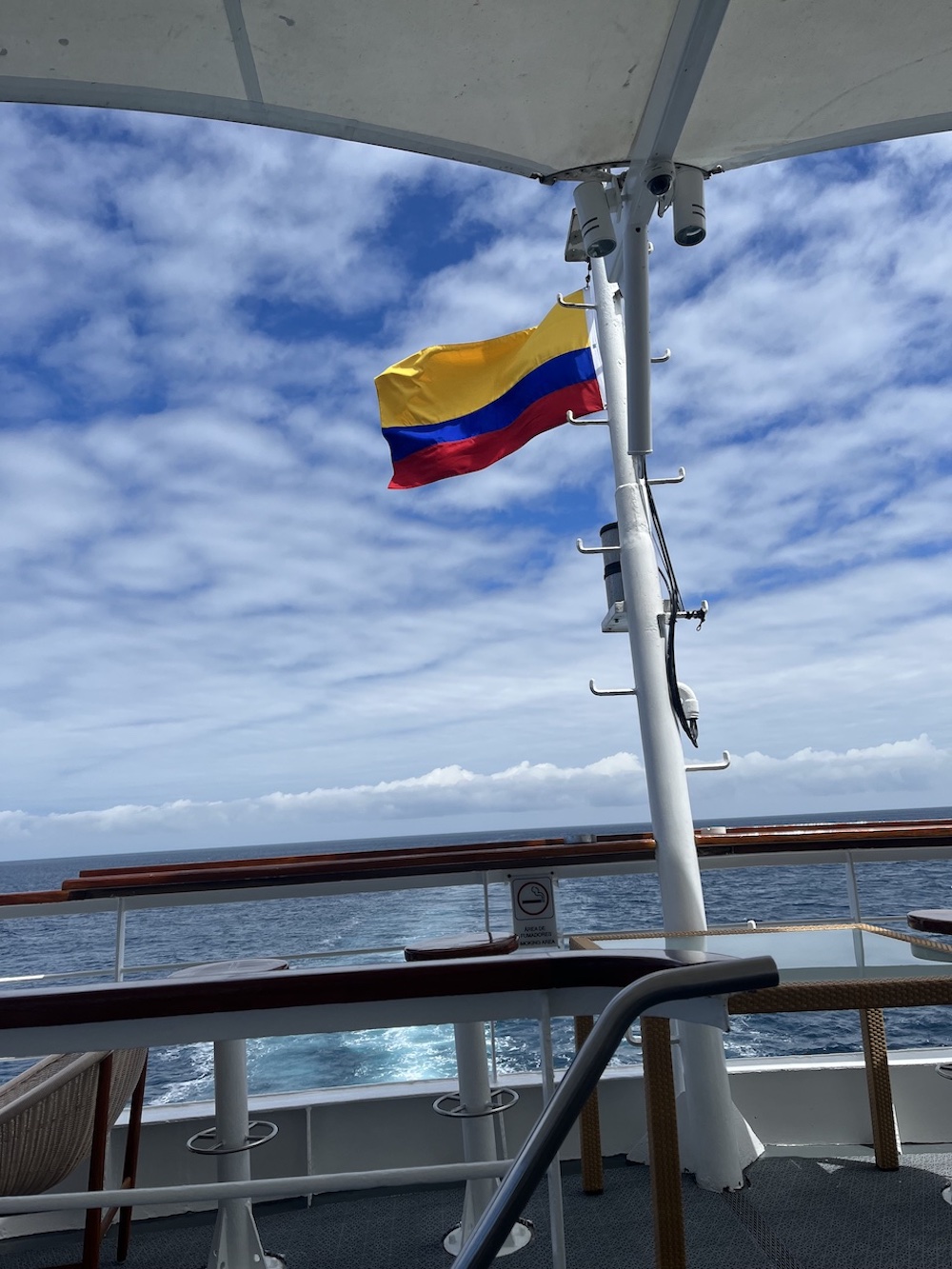 Susan Kime- Baltra Island, Ecuador Flag flying
Yet, on our La Pinta,  we were so well cared for in our morning and afternoon explorations, we were happy with all that we did see – each day, stepping lightly and quietly on island landscapes, hoping we would not disturb native populations, eithef rawling or flying. All days provided great educational adventure,  fueled always by exceptional breakfasts, lunches, and dinners, in the dining room and on-the-deck La Pinta. We became happily familiar to the fresh mango and passion fruit juices, the varieties of fresh fish, and the exceptional hand-made desserts, allowing us to further enjoy these ancient lands, all the while looking less forward to going home.
For those who knew of the argument between nature and culture, we knew that we, visitors to the island, were the CULTURE part of this twosome, and we were to stay away – at least 6 feet—from any animal we saw. And yet, ironically, we realized the animals were not always informed of this. There were no happenstance occurrences during our travels, but we became even more cautious when we realized the animals in this distant place were used to seeing people and were told by our knowledgeable La Pinta guides more than once, they had no fear of us at all. 
So, we kept our distance. But many of us did see animals we never saw before and probably would never see again.  The large tortoises when sleeping, looked like large rocks, and we marveled as they moved. The boobies were also fascinating, though we saw only blue footed ones. The iguanas and other lizards were everywhere. 
As we walked these islands, we were never far from our group, knowing always we were guests – not owners or inhabitants — of these pristine islands. And for that awareness came an unshakable irony:  we were often reminded, non-verbally, of our half-remembered ancestral lives–   no matter how acculturated we were, we still sprang from ancient primordial soup.  
Looking at our cousins —those scaly, crawling iguanas, the giant lumbering tortoises who looked at us as if we were relatives they didn't like, and the birds — boobies with blue feet, we merely observed, knowing we were the temporary, somewhat unwelcome yet tolerated visitors in these animal's lives.  To many on this trip – the couple from Israel, those from Canada, and from the US –there was human motivation to explore and be risk tolerant of what was discovered. We asked passengers about the consequences of their visiting the Galápagos, and many seemed to feel a new, emerging responsibility toward their human natures and, as extension, the natural world. 
It's been said that quiet is a forgotten pleasure in contemporary life, but being on these islands, the ubiquitous quiet punctured only by bird calls, barking seals, and lapping waves, we felt such quiet allowed a rewilding within us, that even for a few minutes we became part of, not separate from, island life. 
We who were blessed enough to be on this evolutionary La Pinta pilgrimage also recognized the renewed importance of the maintenance of nature.  We came to relish early mornings – where we could sense the Galápagos peace encroaching in our lives, putting us in a more harmonic, less chaotic, space. The La Pinta journey combined opposites: of culture and nature, of eco-sensitivity and luxury.  As we sailed, we assimilated — seeing creatures of pre-history on the same day we enjoyed our wine, and excellent dining.  In all, we became symbols of a more balanced evolution, caring deeply for our ancestors that we encountered in this inimitable volcanic archipelago.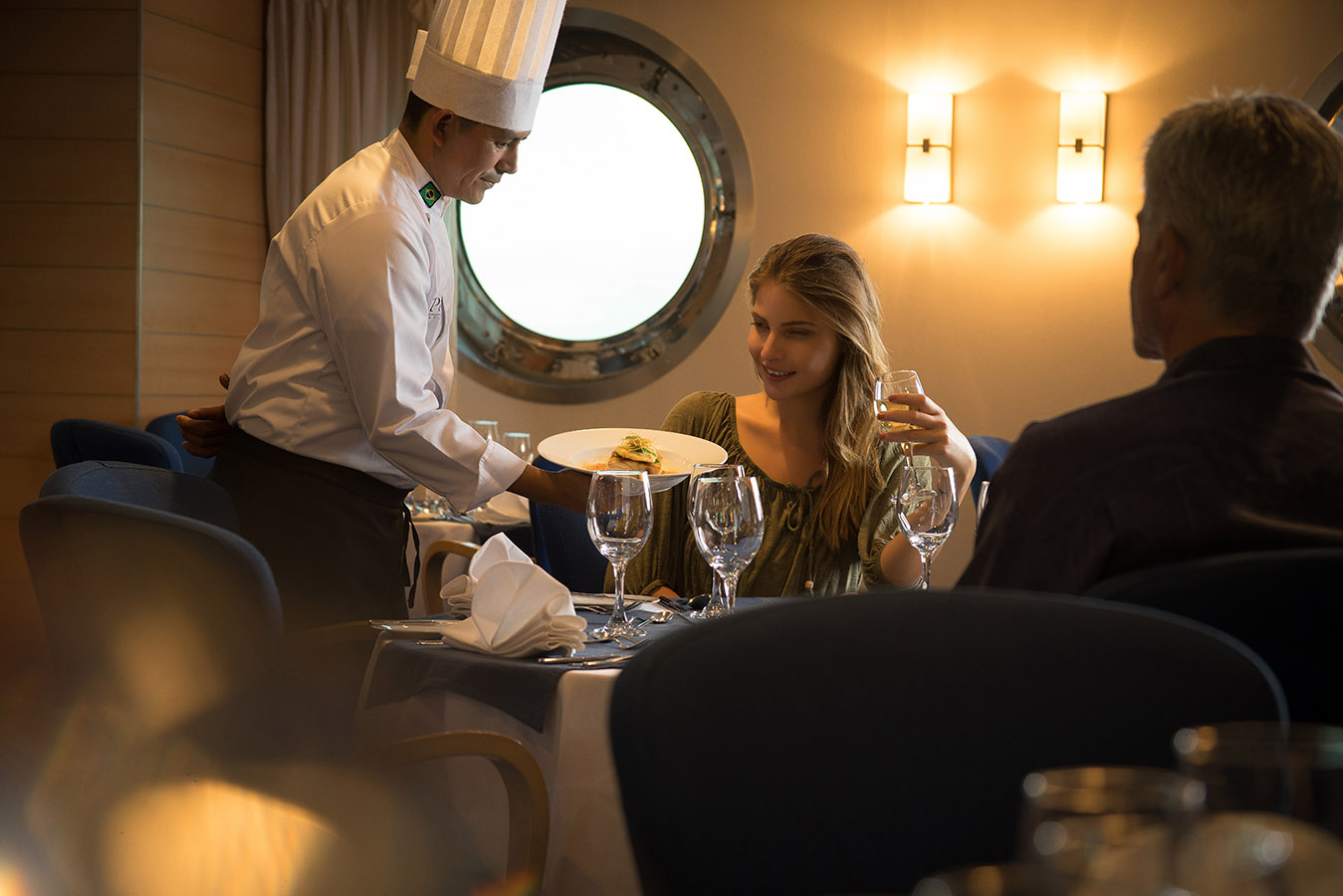 Metropolitan Touring
Dinner in the La Pinta Dining Room.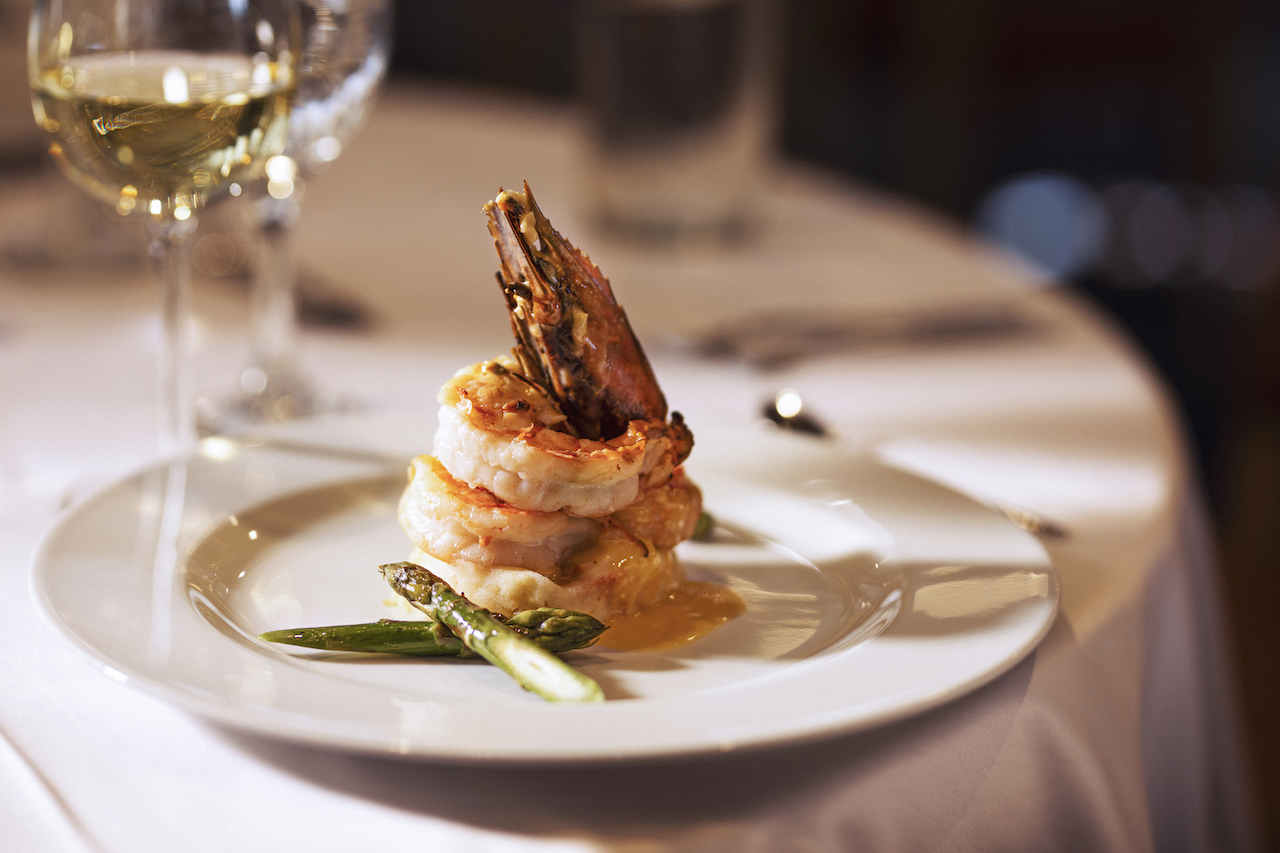 Metropolitan Touring
Gastro Prawns in dining room, La Pinta Yacht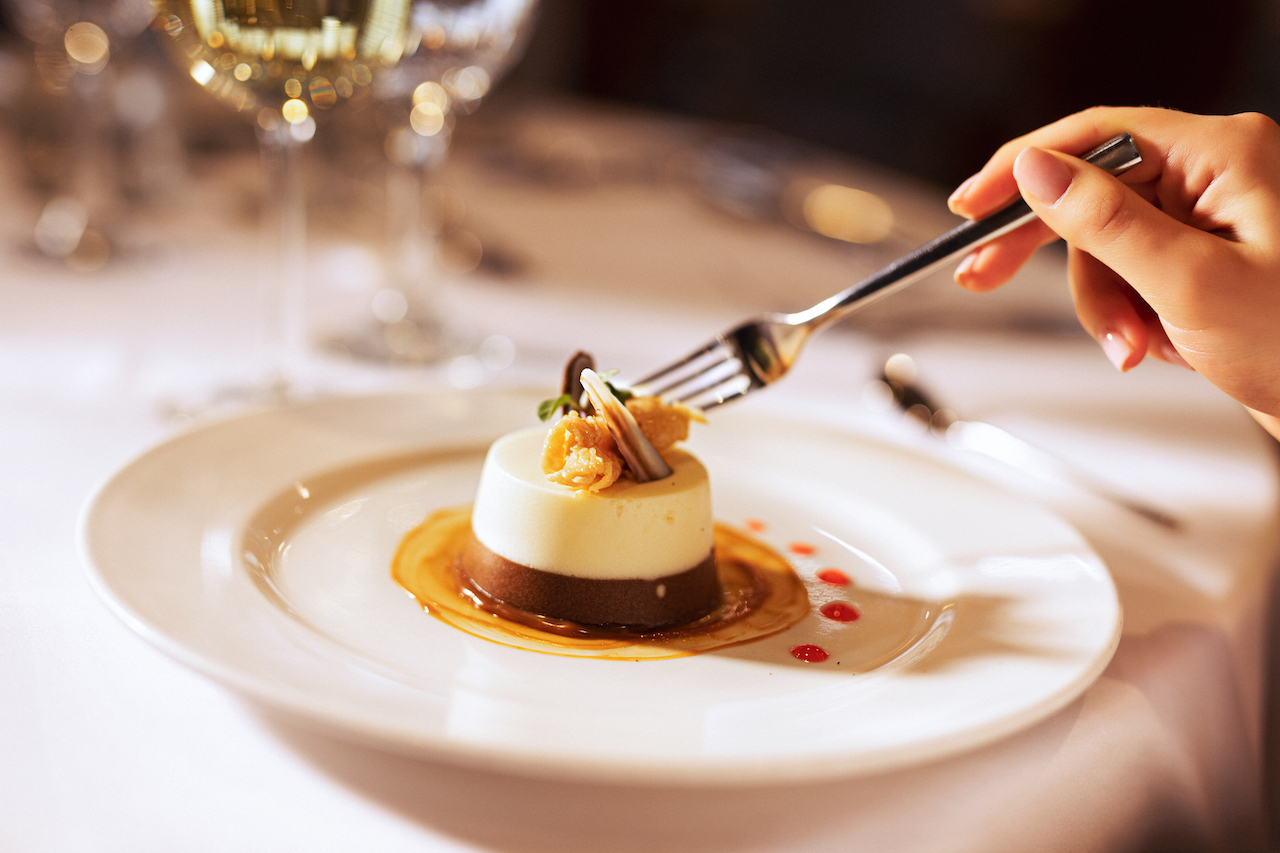 Metropolitan Touring
Gastro Chocolate Mousse, La Pinta Dining Room



[ad_2]

Source link
John Miller has been writing about science, gaming, and tech culture for over a decade. He's a top-rated reviewer with extensive experience helping people find the best deals on tech and more.