[ad_1]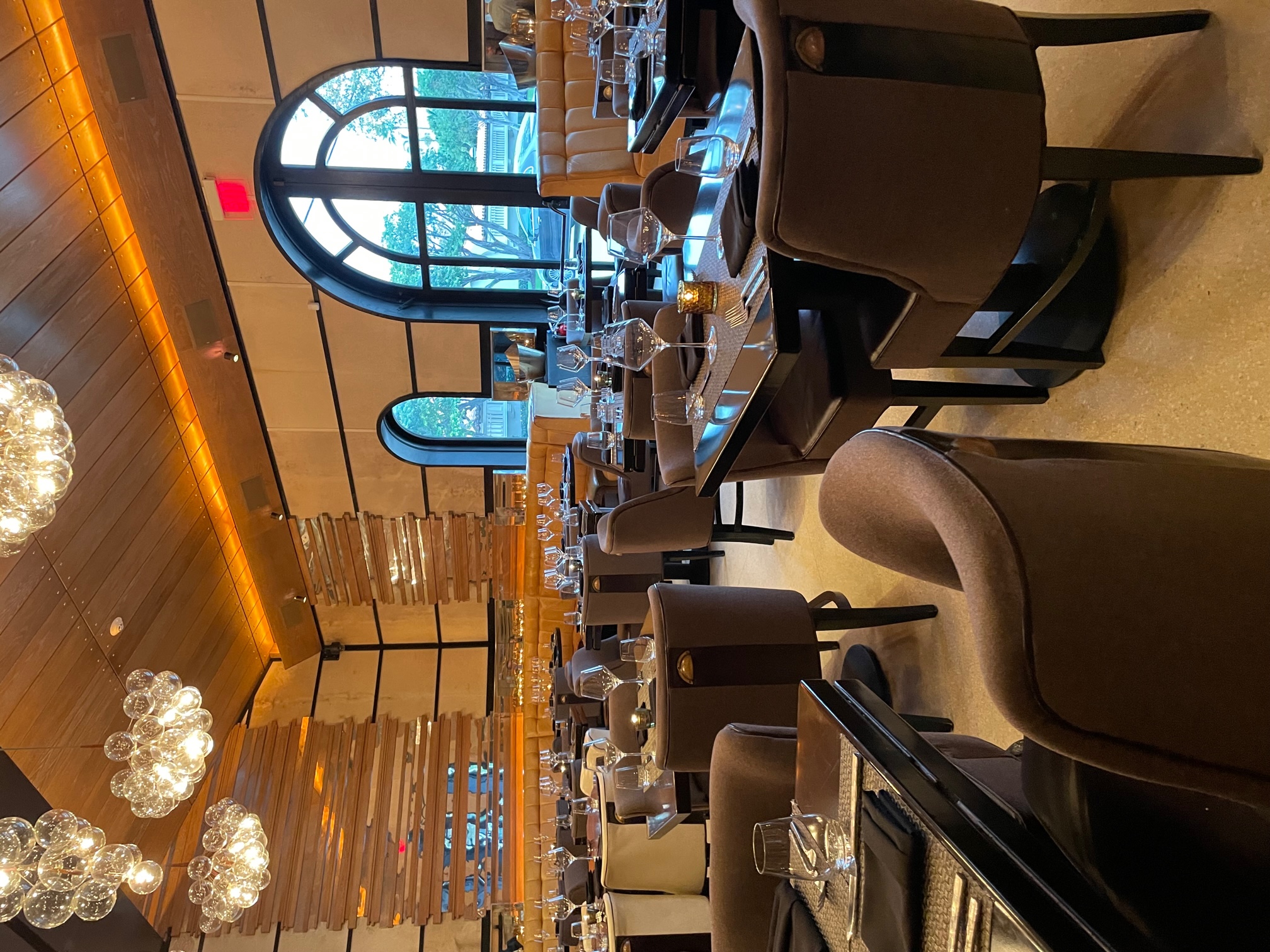 Kellie Speed
If you're in the market for some of the best steaks in town served up in a stylish atmosphere, it's time to head on over to Meat Market in Palm Beach.
The popular steakhouse first made a name for itself when the "sexier, more glamorous take on the traditional concept" debuted on South Beach. Since then, the trendsetter has gone on to open locations in Tampa, San Juan and Palm Beach with a Boca Raton spot slated to open later this spring. 
Restaurateur David Tornek and Executive Chef/co-owner Sean Brasel brought the sophisticated steakhouse with a high-energy bar scene to tony Palm Beach nearly a decade ago. Since then, the elevated menu and contemporary style continue to appeal to a glamorous crowd every night.
Courtesy of Meat Market
Instead of a clubby atmosphere that you might find at a traditional stuffy steakhouse, the luxe Meat Market offers a relaxed vibe with bartenders mixing up creative cocktails and an impeccable wait staff serving expertly prepared steaks.
Our friendly server greeted us with a sampling of addicting Peruvian fried corn (we hadn't had them before, but trust us, you'll love them). We got started with their signature Mai Tai and a perfectly shaken gin martini complemented with freshly stuffed blue cheese olives.
When it comes to starters, a choice from their raw bar selection is a must. The chef's ever-changing selection of oysters featured sweet, deep cup oysters from Blackberry, Virginia the evening we visited. Jumbo (and we do mean enormous) shrimp cocktail arrived with a side of fresh horseradish and tangy cocktail sauce.
Meat Market also offers a decadent white truffle "American style Kobe" tartare; crab and lobster cake; and roasted truffle Rockefeller oysters. Other appetizers that sounded appealing include Wagyu dumplings, roasted escargot, prime roasted bone marrow, and wood grilled artichoke.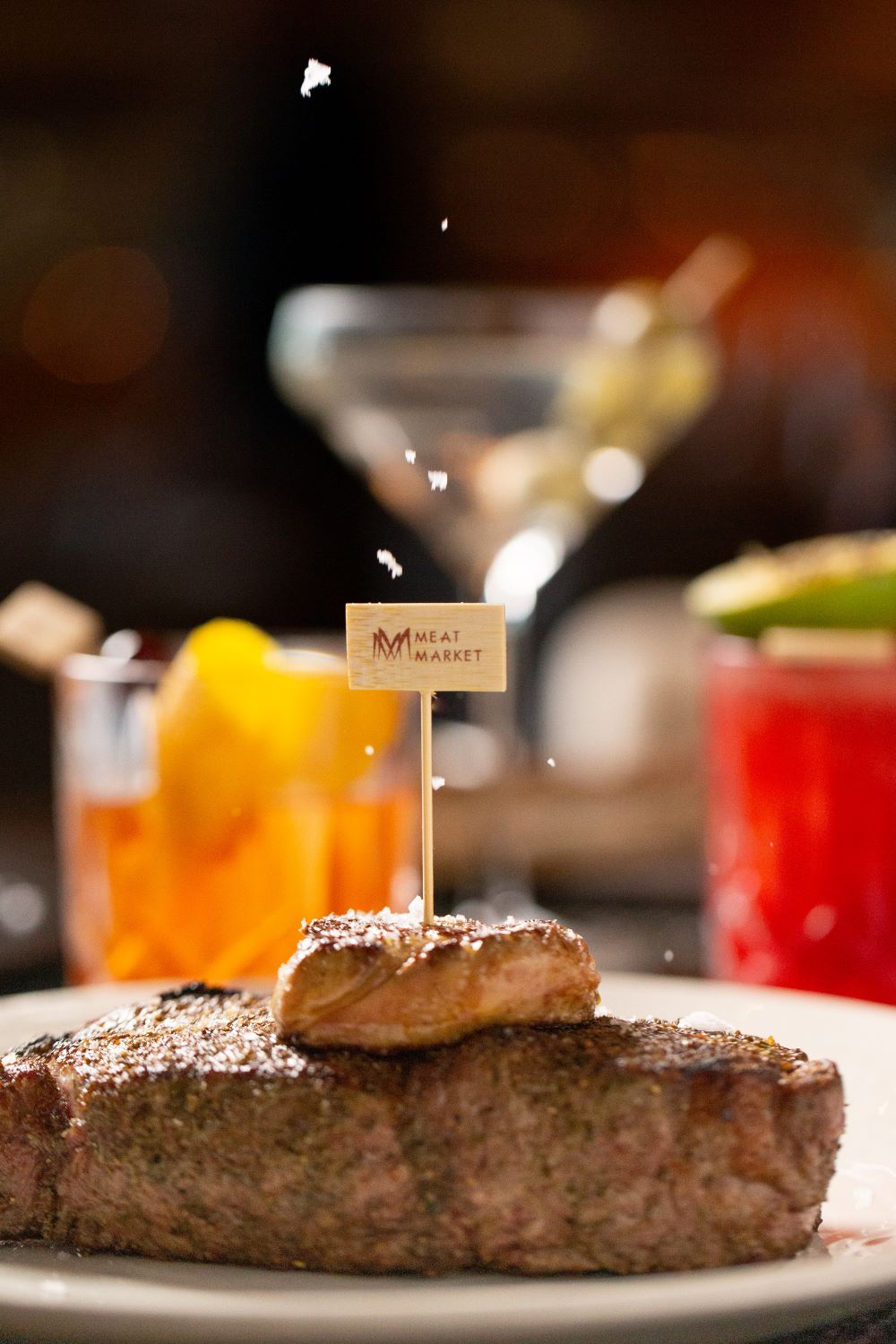 Courtesy of Meat Market
For main events, you'll want to be sure to try what Meat Market is best known for – their impressive selection of steaks.
Signature steaks include a Prime New York sirloin, a 16-ounce ribeye, and Prime Picanha Meat Market steak served with habanero chimichurri. Each standout steak was cooked to our medium-rare liking and was extra juicy and flavorful.
Be sure to complement dinner with one of their incredible homemade side dishes. We recommend the sauteed mushrooms or the lobster mashed potatoes overflowing with enormous chunks of fresh lobster meat. Other indulgent sides on the menu here include white truffle mash, gouda tater tots, wood-grilled broccolini, crispy Brussels sprouts, and truffle cream corn.
For the ultimate luxe experience, on the weekends you won't want to miss their selection of brunch offerings that can be paired up with Veuve Clicquot sipped throughout the entirety of your experience.
Meat Market is located at 191 Bradley Place in Palm Beach.



[ad_2]

Source link
John Miller has been writing about science, gaming, and tech culture for over a decade. He's a top-rated reviewer with extensive experience helping people find the best deals on tech and more.