[ad_1]

Yachting is unlike anything else. The chance to chart your own course and go where you want, with whom you want, and as long as you want. It is the ultimate freedom to share time with friends and family out at sea. Everything is taken care of by your professional crew on board, there for the sole purpose to take care of all of your needs. Yachting is the ultimate privilege reserved for the limited few who have the means to do so and you have the ship to prove it. Whether it is on your own yacht or a charter, the experience signifies that you have arrived. For five days each October, a celebration of life on the water takes place in a showcase of boats made for the pond behind your house to the most opulent megayachts in the world. It is the greatest show on earth; and this is not the Ringling Brothers Barnum and Bailey Circus. It is the Fort Lauderdale Boat show where literally a sea of boat buyers, sellers, and enthusiasts descend on Florida's mecca the boating world.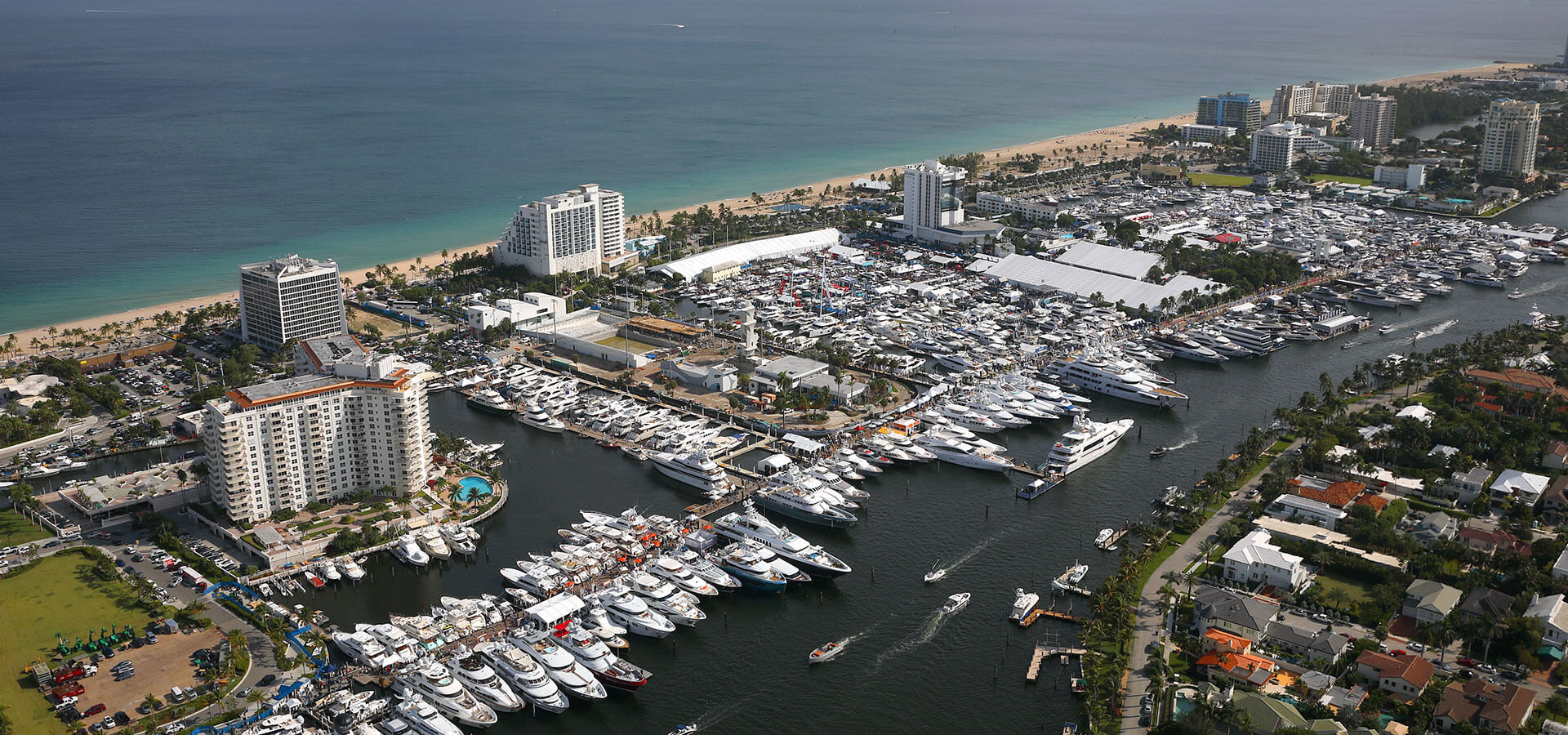 Fort Lauderdale is the home of FLIBS which has aptly nicknamed the yachting capital of the world. To say that the five-day event is gargantuan would be an understatement as it takes place over 90 acres and showcases over 1,500 yachts and boats and generates close to $2 billion for the Florida economy. The event is held annually each October which is important to note as boating manufacturers release their new production models by the fall. This ensures guests have complete access to the newest production models which cannot be found elsewhere. Although the event is headquartered in the Bahia Mar Yachting Center, it takes place over seven locations in the area.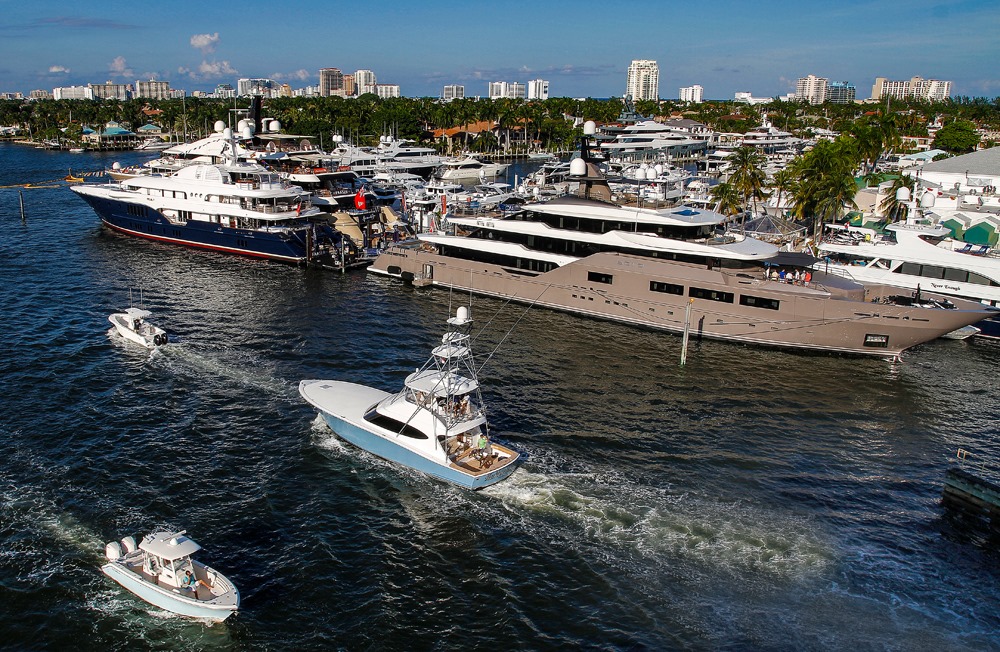 The FLIBS dates back to 1959 when boating enthusiasts were invited to partake in the show's first exhibition at the Lauderdale Marina. The number of exhibitors amounted only to thirteen which is a stark difference from the 1,000 exhibitors seen today. This drastic change in growth for the show can be attributed to Kaye Pearson, a local entrepreneur whose company took charge in 1976. Pearson completely reinvented the show aesthetically to be more like a party than an average boat show. His changes included adding the word "international" to the show's name, moving its dates to the fall, and upgrading the event completely with on site-food and alcoholic vendors. Switching focus to the present day, the show is now owned by the Marine Industries Association of South Florida, which has expanded Pearson's international focus to include exhibitors representing 52 countries.  It is clear that FLIBS has outgrown its humble beginnings to become the must-go-to hub for international yachting and boating connoisseurs.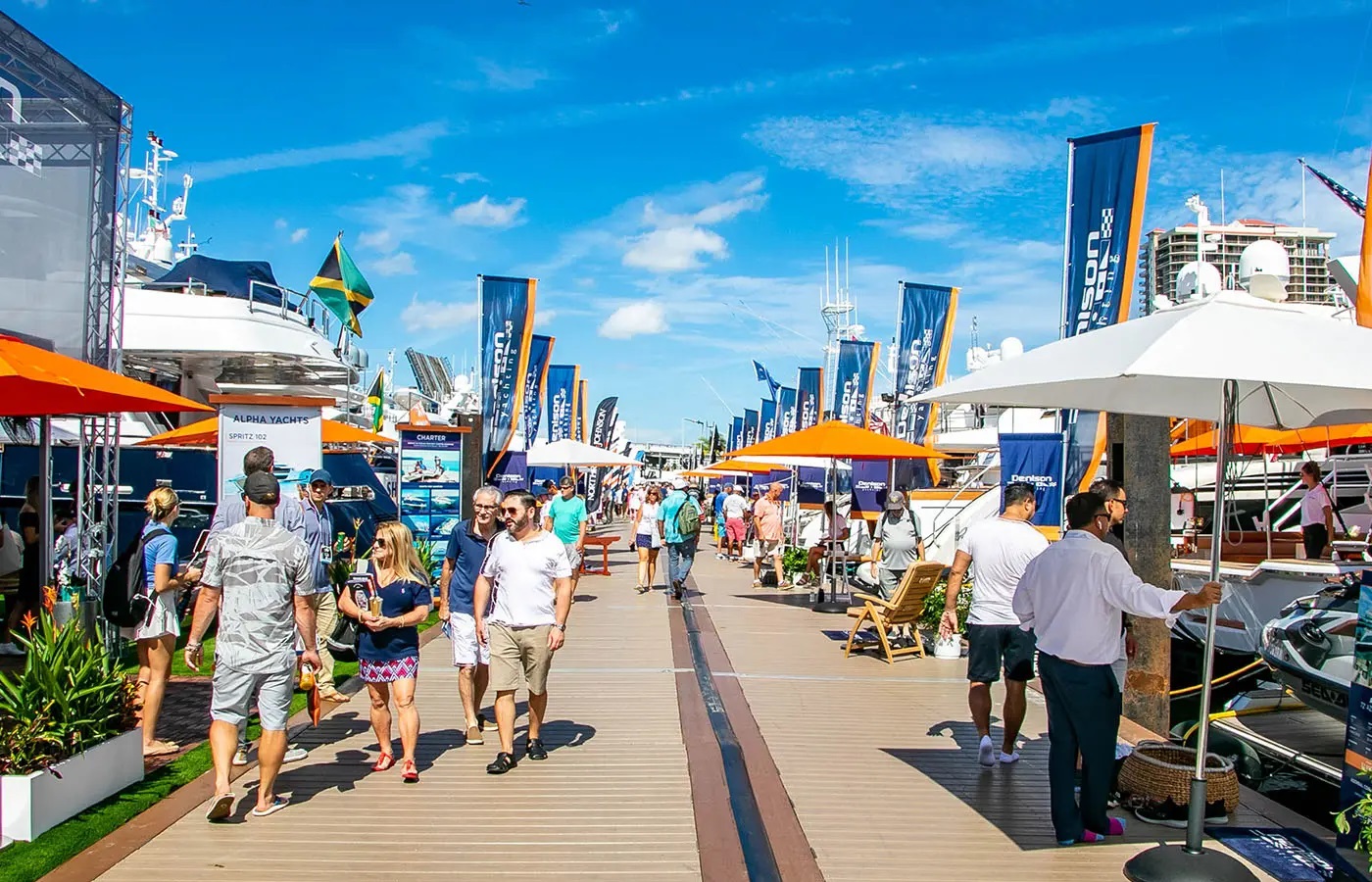 Starting with day one of the event, guests can park at the Broward County Convention Center as the center is the transportation hub for FLIBS. Besides providing transportation to the various exhibition spots, the center also provides its own source of entertainment by displaying cruisers and other marine accessories. There's even an AquaZone, encompassing a 40,000-gallon fresh water tank for visitors to experience new innovative products up close. For those who are interested in what's happening within the marine industry beyond AquaZone, the center also hosts educational seminars from experienced industry professionals. 
Once satisfied with the convention center's offerings, a relaxing ride on a water taxi or shuttle can take guests to any of the exhibition spots. These spots include the Bahia Mar Yachting Center, Las Olas Marina, Hall of Fame Marina, SuperYacht Village, Pier 66 Marina, and the Hilton Marina. Each location offers a unique perspective on high-end production models, especially the SuperYacht Village at Pier 66 which features the epitome of luxury superyachts and exotic vehicles. 
Windward VIP Experience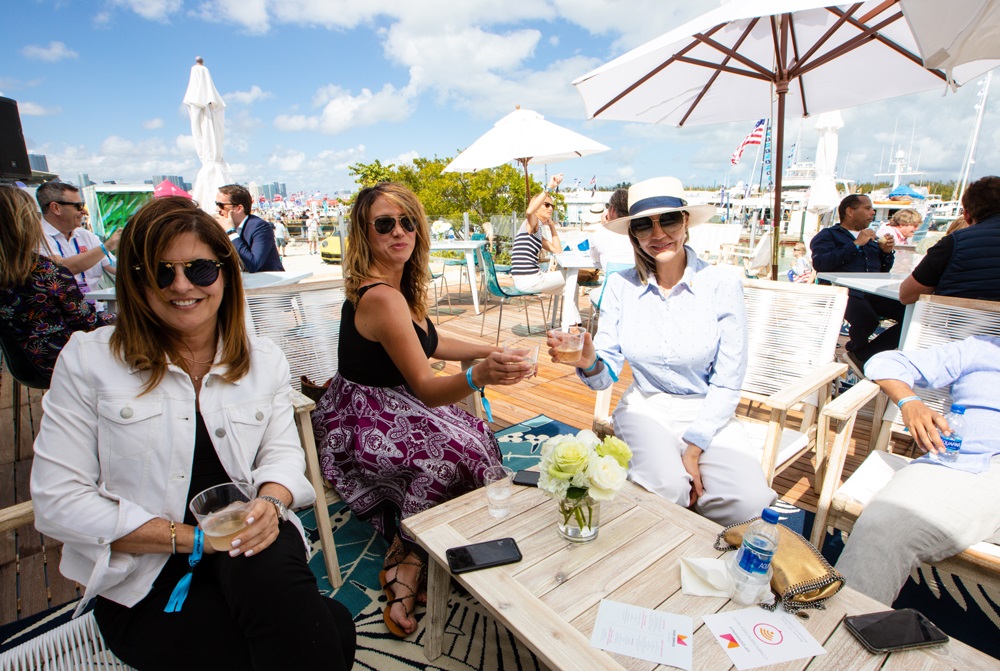 For those looking to elevate their time at FLIBS, the Windward VIP experience provides an additional feeling of luxury. Windward VIP ticket holders are given access to the Bahia Mar Yachting Center's Captain's Lounge which encompasses a premium open bar, gourmet food, and private restrooms. Getting away from the general public to relax in the private captain's lounge while enjoying exquisite food and tasty cocktails truly puts this experience over the top. Another key perk of this VIP experience is the complimentary shuttle and water-taxi service to the seven boat show locations.
Presenting the Best New Yachts to the World at the FLIBS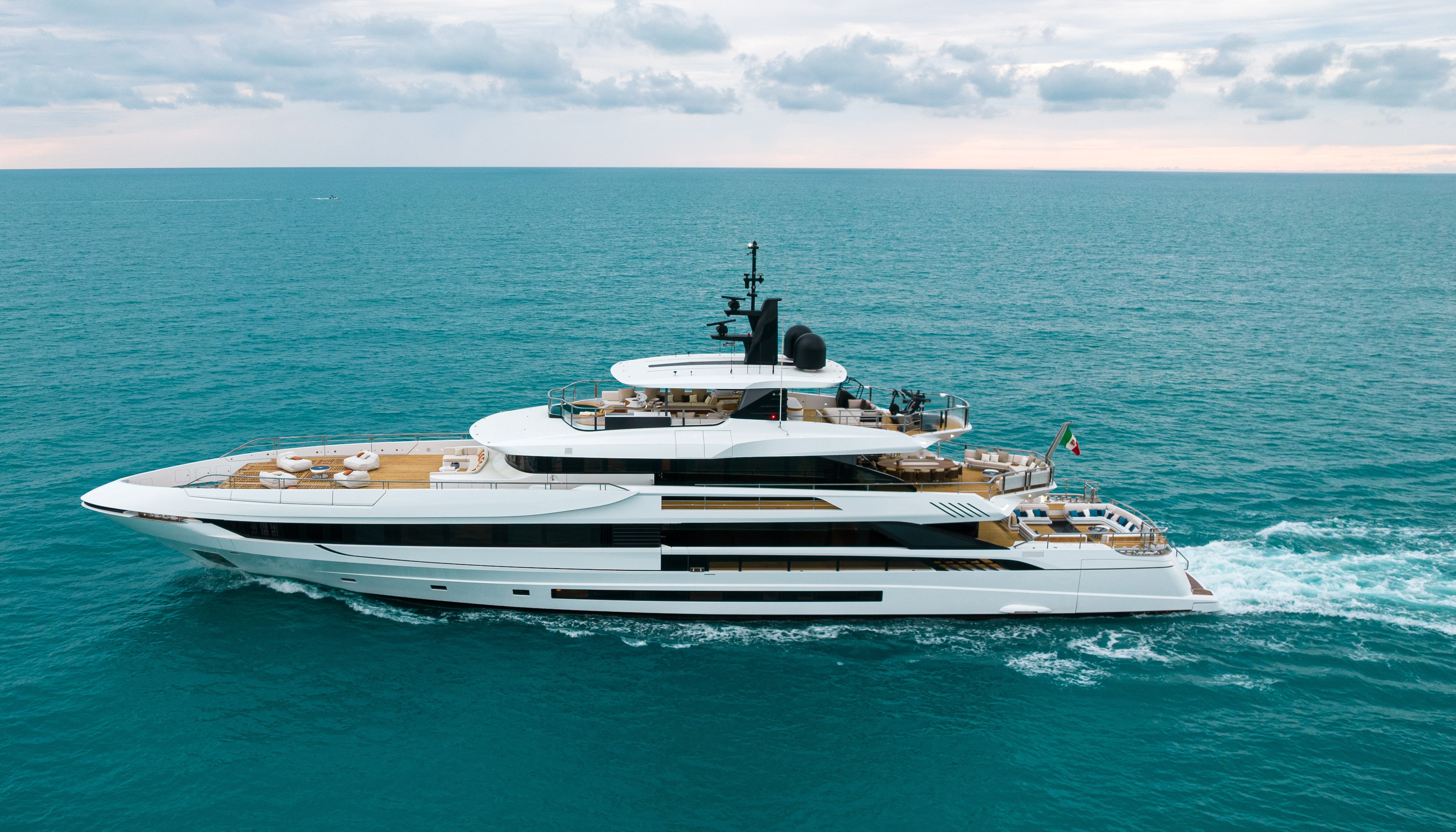 As shared, the FLIBS takes place in October, timed to coincide with when the yachting industry releases its new models. And this year was a doozy with some of the most exciting debuts in recent memory. 
Mangusta Oceano 50
Mangusta, most well known for its sleek and powerful super boats continues its foray into the superyacht category with the U.S. debut of the 163-foot  Mangusta Oceano 50.   This superyacht was arguably the talk of the show and is assured to be a head-turner at sea or in any marina it chooses to dock.
This yacht is built for 12 guests with staterooms and offers the epitome of design and technology with a pool under a retractable floor, two Jacuzzis, and even its own 732 sq./ft beach area, connected over three terraces just above the water The excitement over this debut is well placed as the Mangusta Oceano 50 has raised the standard of what megayacht design and manufacturing can achieve.  
Sunseeker 90 Ocean
Sunseeker is the perennial favorite to debut a titillating yacht during the show. This year it was their 90 Ocean yacht that occupies the market under the superyacht category but surely large enough for a family or three couples while being small enough that it can be captained by the owner. 
The Name to Know at FLIBS:  Denison Yachting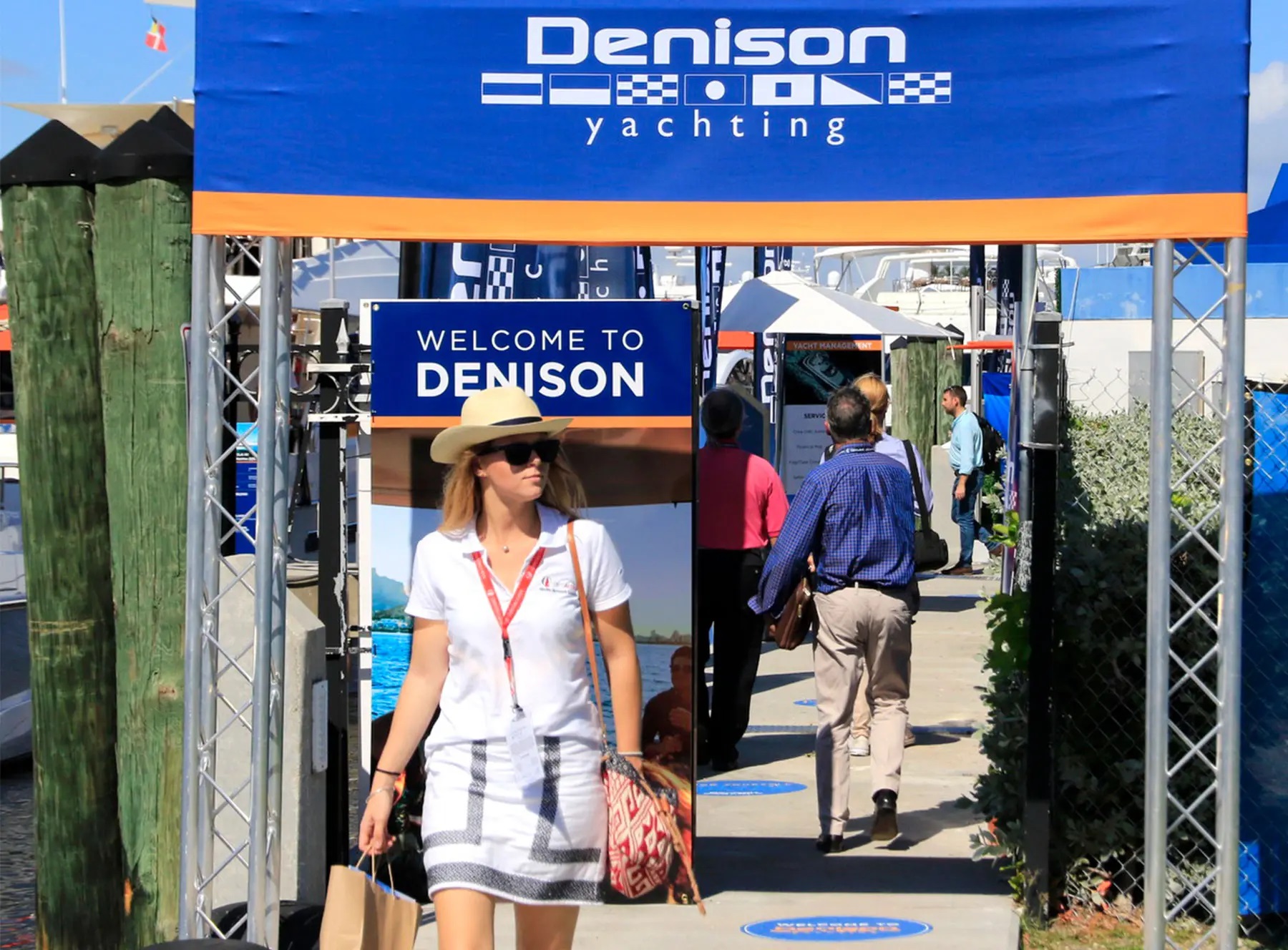 The FLIBS offers the opportunity to see, explore, and purchase yachts but also to charter for a week or even months. In the world of yacht charters, not all companies are the same. On that has built a reputation based on taking the best care of its clients for three generations and one of the most preeminent names in yachting is Denison Yachting.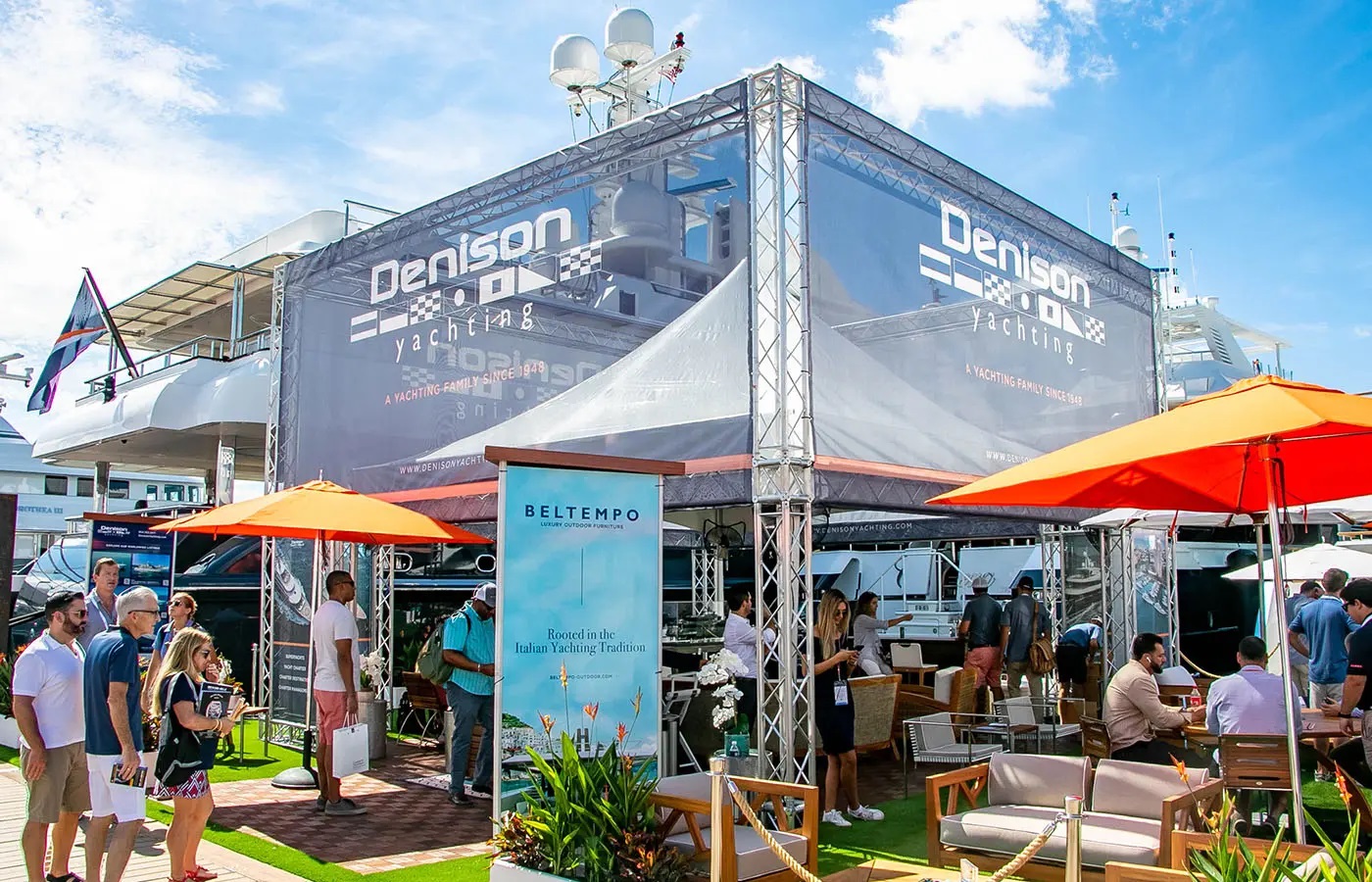 There's a reason they were the largest broker represented at FLIBS. President Bob Denison, who spent the past 30 years coming to FLIBS since he was a kid, proudly shares his brand's success of working with yacht brokers instead of against them. Bob shared with Just Luxe Magazine that what makes Denison Yachting essential to the industry is its focus on technology and client experience. His team utilizes the latest technology from industries including automotive to enhance their client's yachting experience. Their selection of boats is top of the line with superyachts, motor yachts, sportfish, sailboats, trawlers, and catamarans for sale. Moreover, Denison works with the client to ensure a stress-free buying experience as well as acts as an advisor to help people manage their yachts.
One of their many standouts from their 40 yachts represented at this year's boat show was the Lady JJ, an impressive 180' Heesen built in 2011 listed for sale at a mere $39,900,000.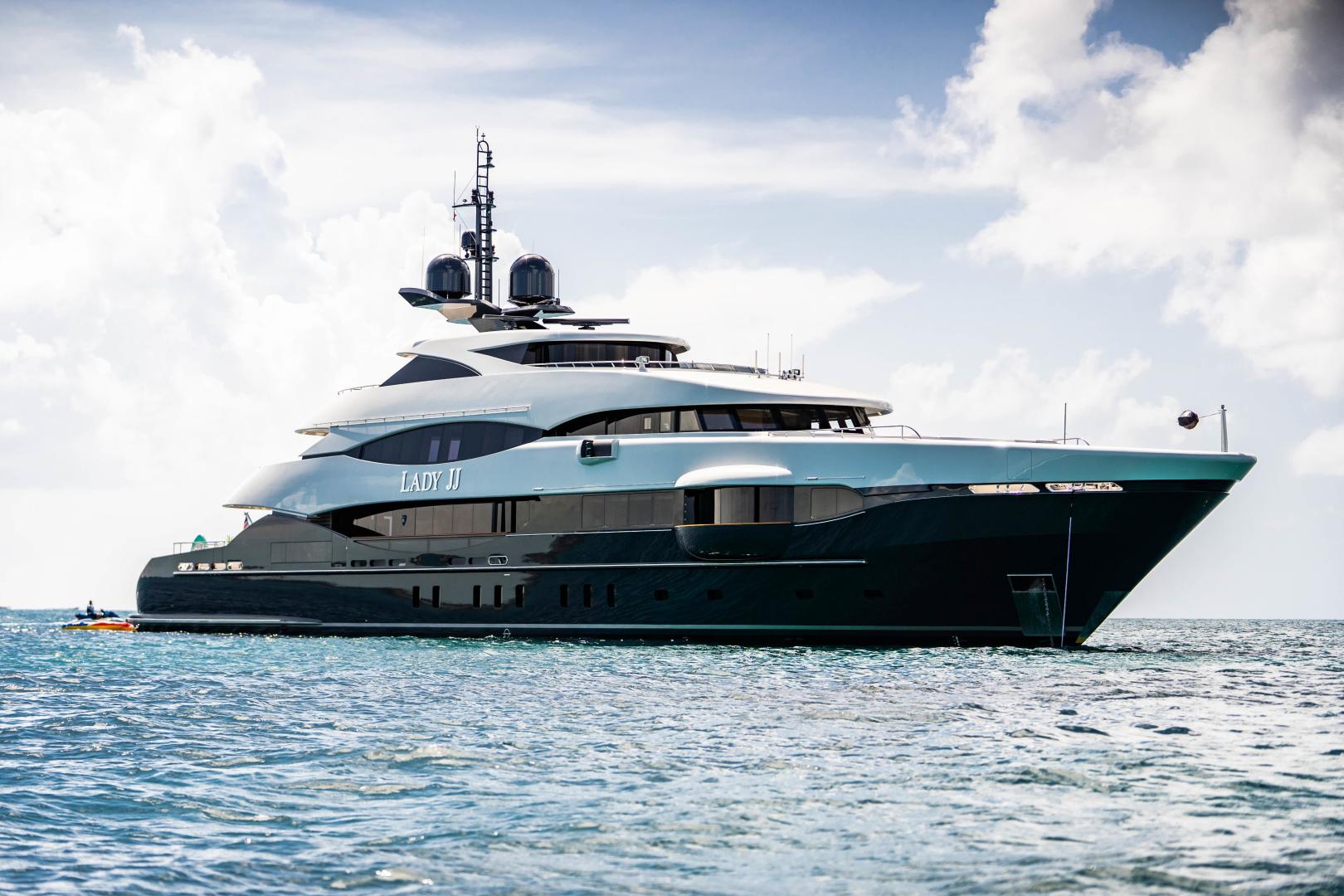 Lady JJ : 180' Heesen
Another aspect of Denison besides representing the client as a seller is that they also represent the buyer.  Many members of their team such as Mike Kiely  has  been with the company for over a decade.  Kiely who, like the company he represents, has built a strong reputation by ensuring  both sides of the transaction, one client at a time, are happy with their sale or purchase.  
Sustainability Is Critical to the Boating World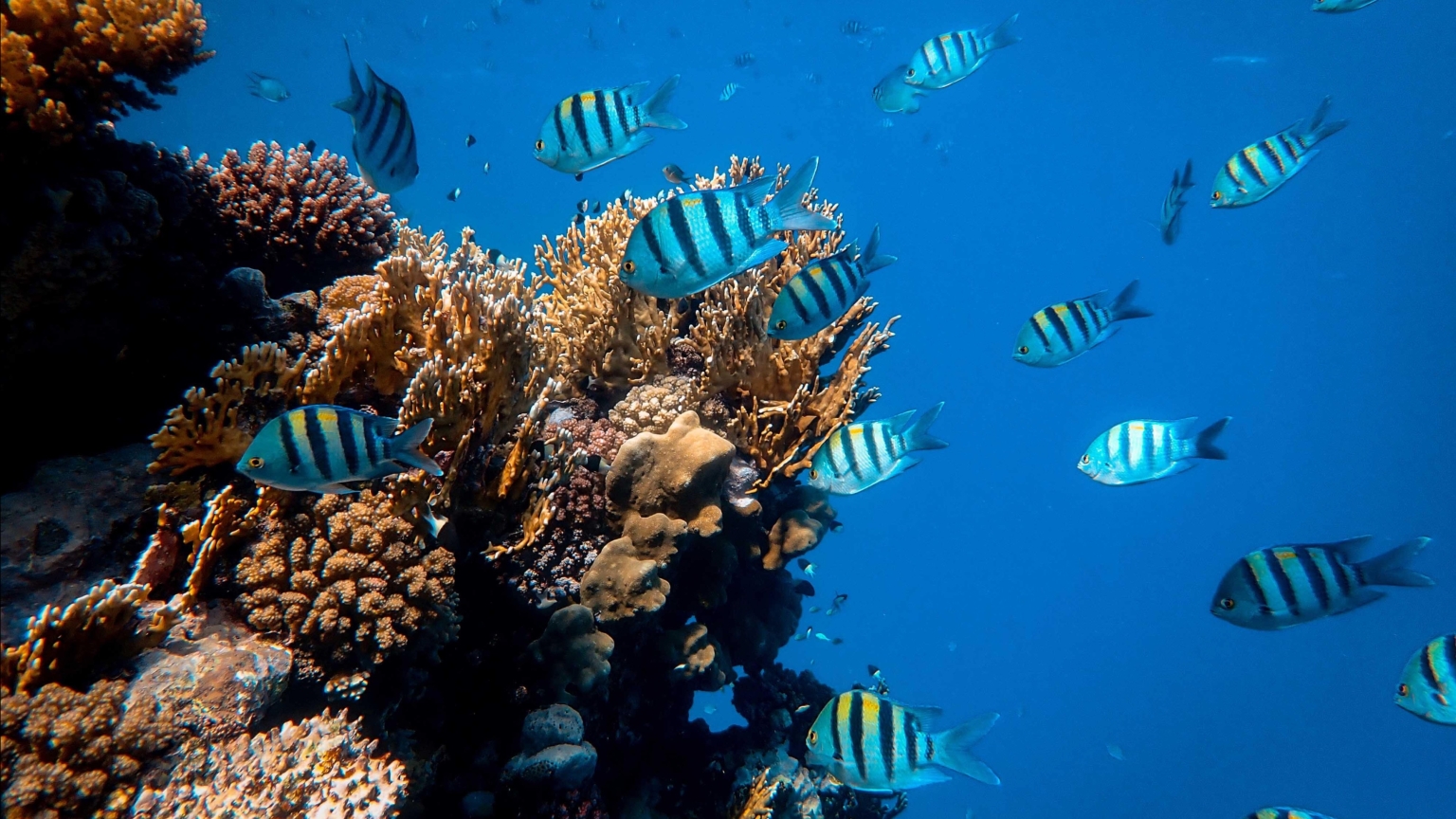 One of the more important aspects of FLIBS is its dedication to raising awareness for sustainability. This topic is especially important within the boating industry as the rise of ocean pollution, whether it be from trash, gray water, or oil spills, continues to be a large contributor to this problem. FLIBS has consciously incorporated sustainability by partnering with companies to find solutions for eliminating greenhouse gas emissions and diesel generators and investing in energy-saving technology.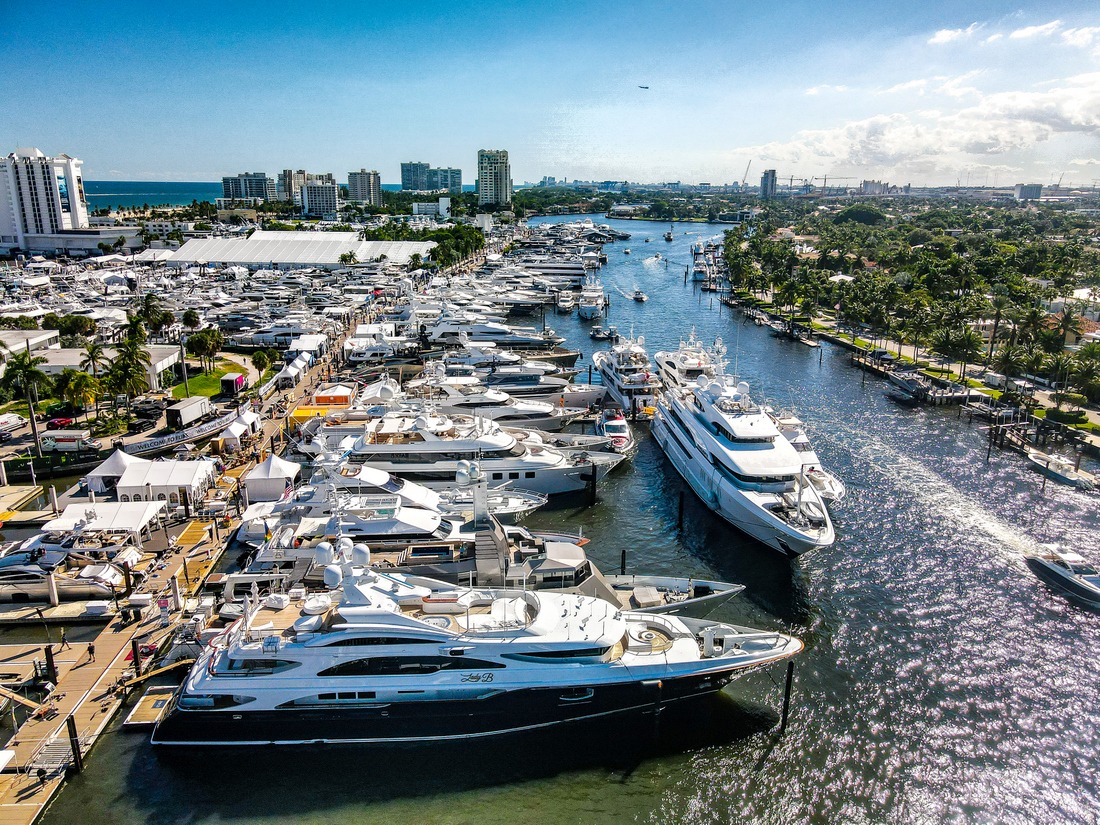 These partnerships are crucial to the show's foundation and this focus on sustainability has transferred to their catering relationship with Proof of the Pudding. In fact, to create zero landfill waste from the organization, there is a no Styrofoam policy and the food that is catered is locally-sourced, organic, and sustainable. It's rare to see an event focus so much on sustainability so their conscious efforts to reduce their impact on the ocean and earth's atmosphere are commendable.
Living a Solar Powered Lifestyle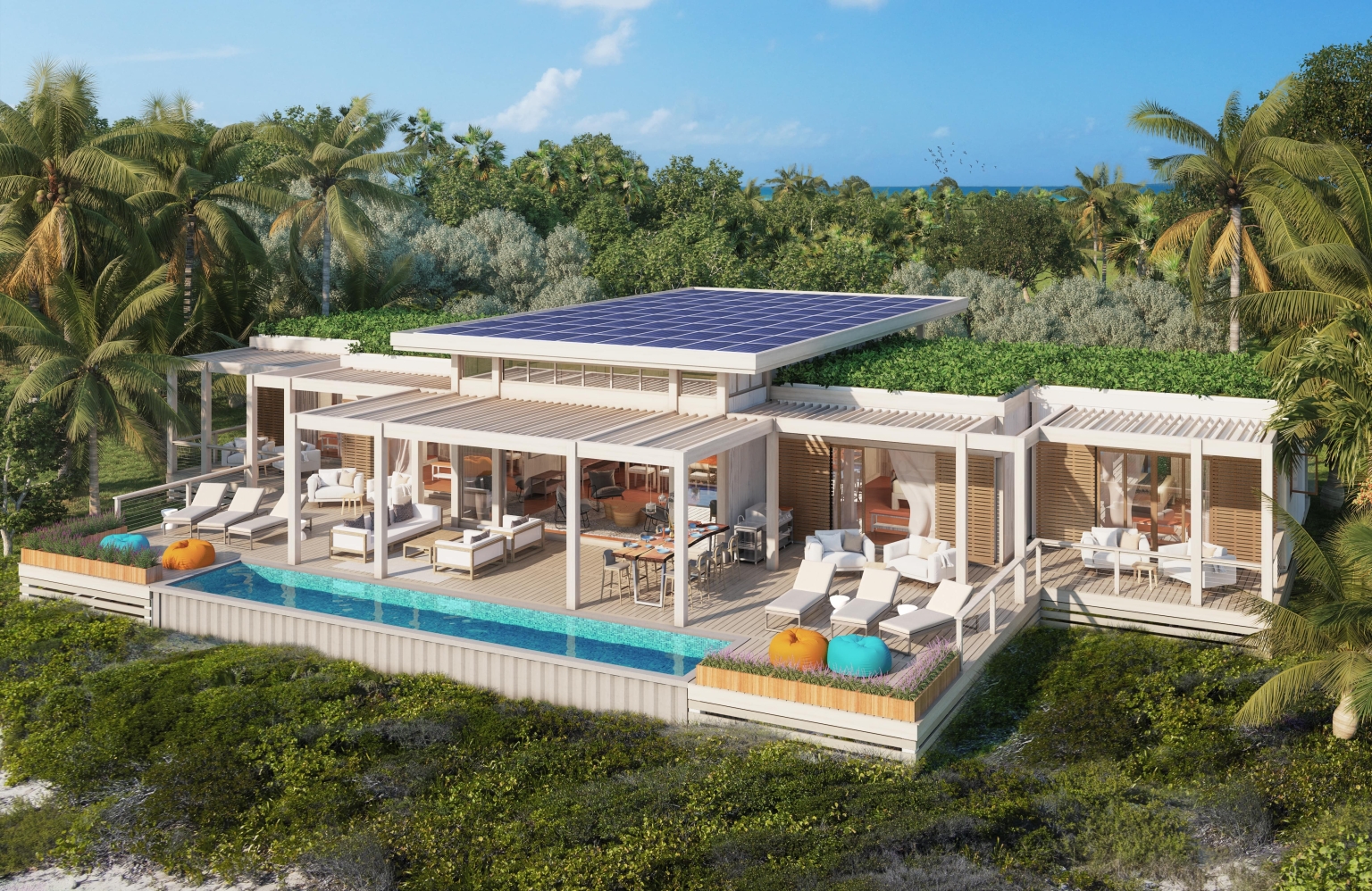 Sustainability extends beyond FLIBS's dedication to exhibitors such as Club Ki'ama and Silent Yachts of North America representing the some of the most significant  sustainable developments within the industry. Club Ki'ama is proud to announce that their first solar-powered luxury villa community in the Bahamas will be available soon. Located on the beautiful Elizabeth island near Great Exuma, this luxury villa community will consist of a maximum of 28 villas, ensuring low development rates on the island. Each villa consists of four bedrooms and four bathrooms with a light contemporary interior to allow for the island's beauty to be the main focus.
Ownership of the villas is on a shared basis with members and each owner is given full access to a catered, solar-powered Silent Yacht. With similar sustainable measures, Silent Yachts of North America presented at FLIBS their solar-powered yachts. Their Solar Catamarans capture solar energy which is then stored in the vessel's battery, allowing owners to choose how they want to use the stored power. Each Catamaran features 360-view windows and a family-style galley, allowing guests to experience unparalleled luxury on the sea.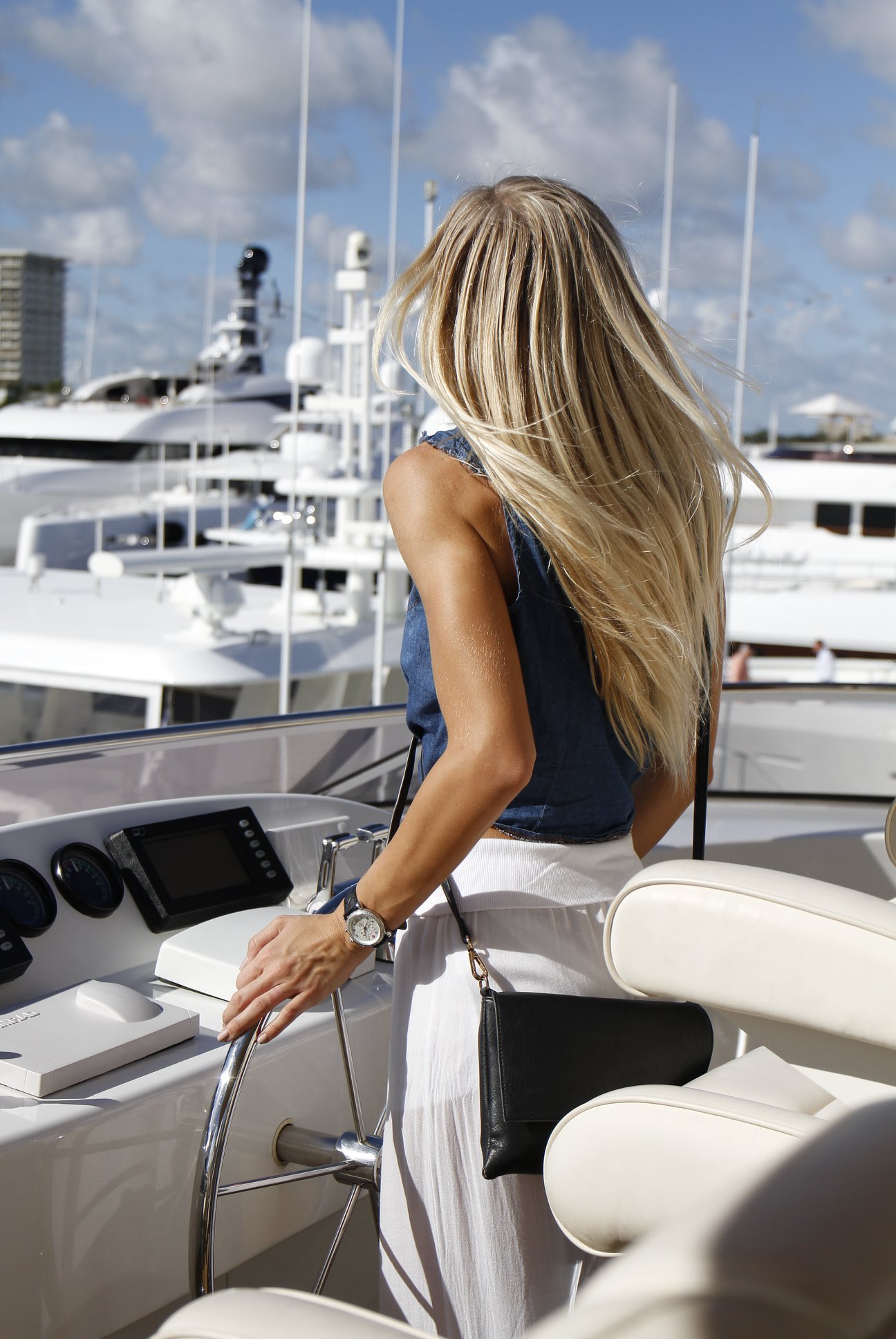 Serving as the international hotspot for boating and yacht displays, luxury-based exhibitors, and exciting demos, the Fort Lauderdale International Boat Show is the marine networking event of the fall season. Moreover, the educational aspect with demos located at the AquaticZone and dedication to sustainability measures makes this event more than a display of luxury yachts and boats, it's a chance to learn more about the yachting lifestyle and everything its impacts.  Yachting is, by design, not for everyone. But for those who love the idea of charting their own course at sea while living in luxury, there's nothing like the Ft Lauderdale International Boat Show to make that dream a reality.
Article written by Ashley Topham and Glenn Harris


[ad_2]

Source link
John Miller has been writing about science, gaming, and tech culture for over a decade. He's a top-rated reviewer with extensive experience helping people find the best deals on tech and more.