[ad_1]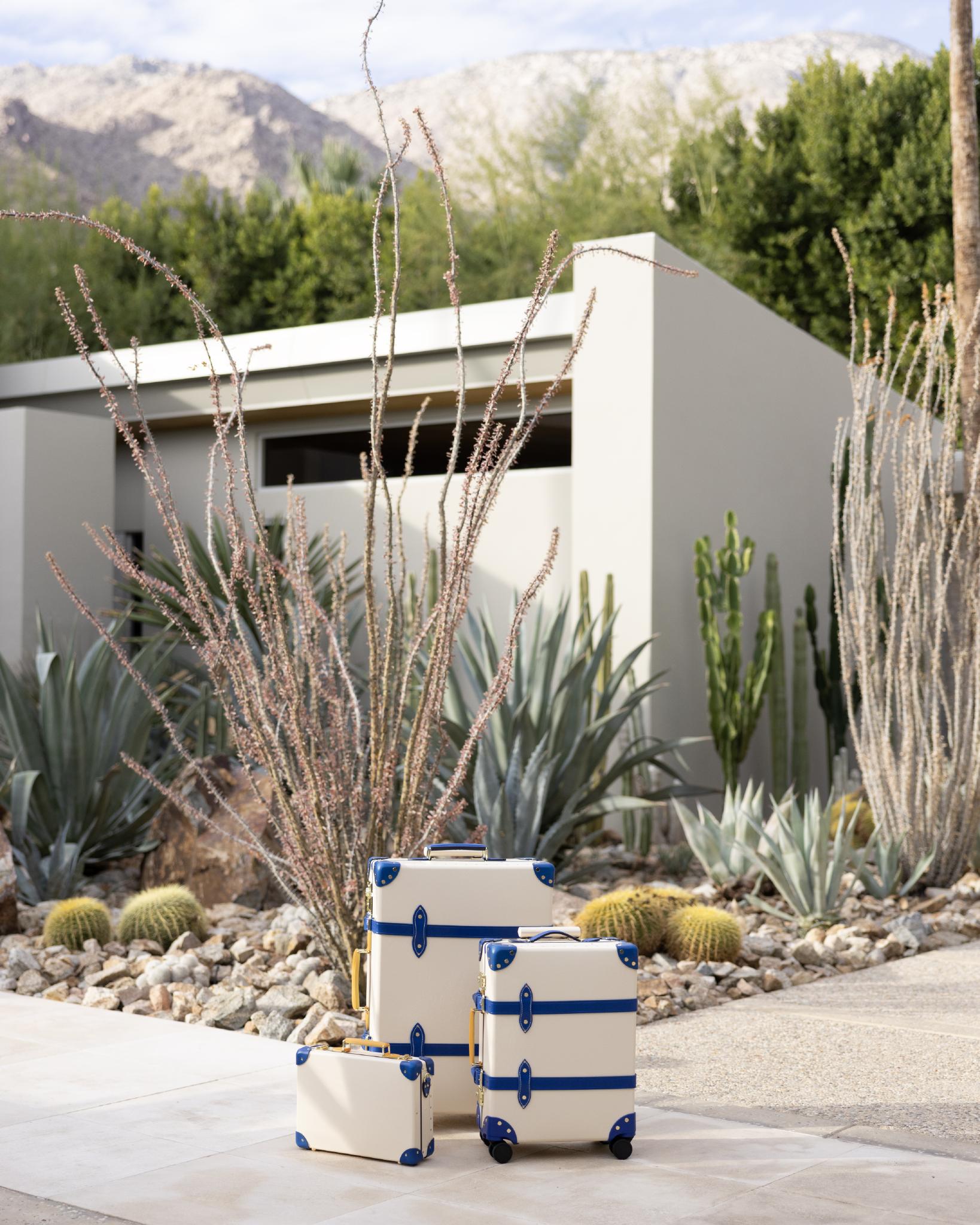 Aaron Feaver Visit Greater Palm Springs
During Modernism Week 2023 in Palm Springs, Darius Alavi-Ellis, marketing director of the luxury Globe-Trotter luggage line, traveled to Palm Springs to meet with Scott White, President & CEO of Visit Greater Palm Springs. During the day, they arranged a photo shoot with renowned photographer Aaron Feaver to capture the beauty of the new Palm Springs luggage collection at the exquisite Don Boss-designed, The Ware Estate.
Later Greater Palm Springs planned a fabulous invitation-only soiree at The Ware Estate, catered by LuLu California Bistro. Invitees not only had the opportunity to receive the first look at the Palm Springs three-piece luggage collection, but also tour the multi-million dollar home and manicured grounds.
Globe-Trotter luxury luggage was strategically placed next to the seven different zero-edge pools reflecting palm trees in the water. Check-In cases stood in front and behind walls of glass, next to Carry-On cases and an Attaché. Near native gardens and stunning landscape views, two new luggage tags; small and large, and a Palm Springs designed leather sticker were also on display. 
The new color palette was inspired by the colors of the desert. The cream color mirrors the San Jacinto Mountains and the blue reflects the sparkling swimming pools throughout Greater Palm Springs. The design also pays homage to the city's iconic midcentury modern architecture and lifestyle in Greater Palm Springs. The luggage is designed to inspire consumers to travel to Palm Springs, with Globe-Trotter luggage in hand. 
The company's motto is "Adventure is far less about where you go and much more about how you carry yourself. And of course what case you carry. At Globe-Trotter we believe the more open you are, the more the world opens up to you. And the more your character is shaped by the places you see, the people you meet and the opportunities you grasp. So, what might begin with a new suitcase, is really the beginning of the voyage of a lifetime."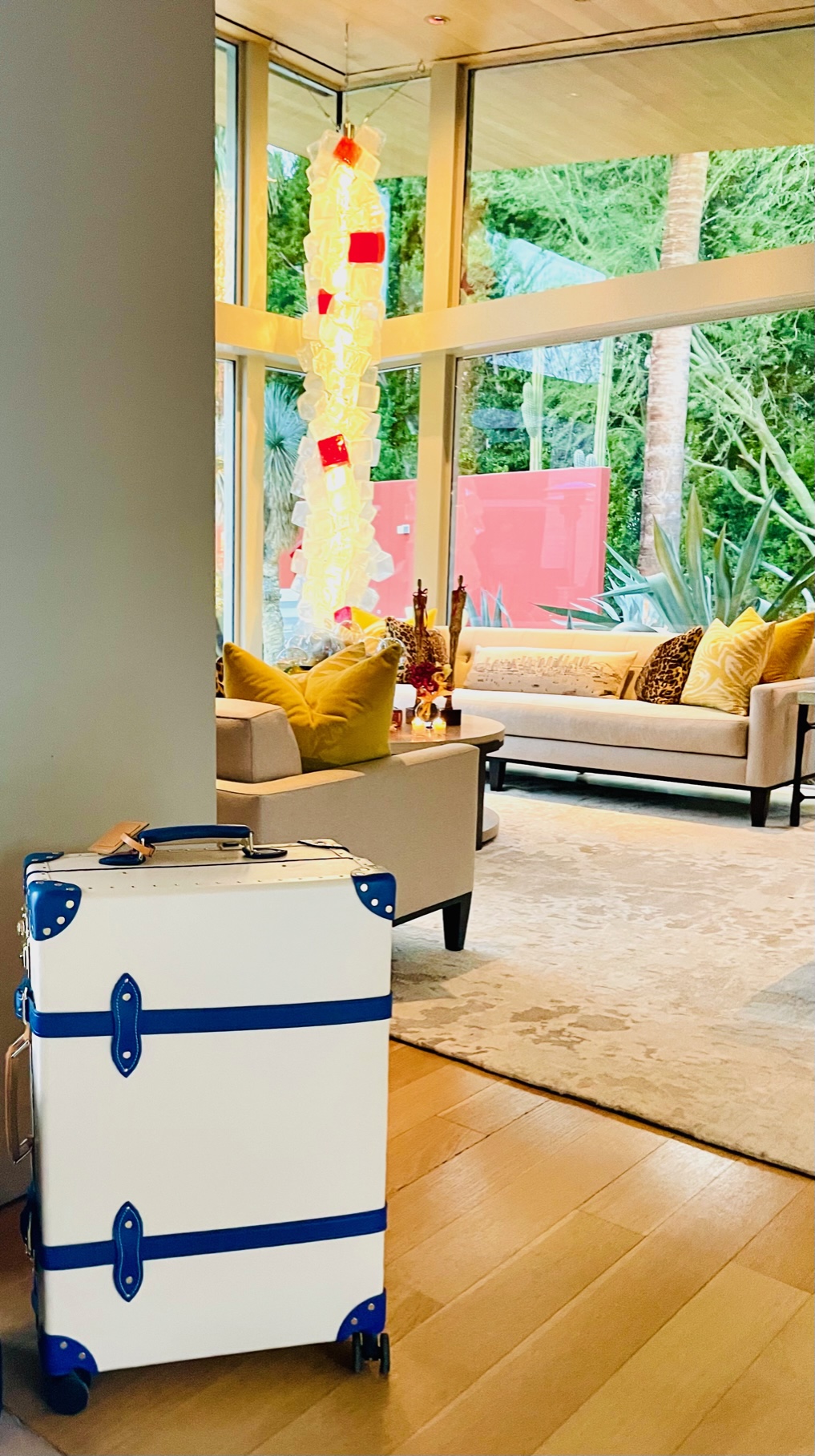 Jill Weinlein
Inside the luggage is a starburst pattern similar to the popular 1950s and 60s sputnik chandeliers featured in many of the midcentury modern homes.
Scott White, commented, "Visit Greater Palm Springs is excited to be partnering with Globe-Trotter, a time-honored luxury brand, known for its hand-made suitcases. We're proud that our destination, with its unmistakable desert oasis and iconic midcentury architecture, serves as the inspiration for the Palm Springs Collection. Globe-Trotter's new luxury line will inspire future travelers to visit Greater Palm Springs and discover all that our region has to offer."
As part of the promotional efforts around the partnership, Visit Greater Palm Springs will be collaborating with Globe-Trotter on a series of global activations and launch events in London, Tokyo, West Hollywood and Palm Springs throughout spring 2023.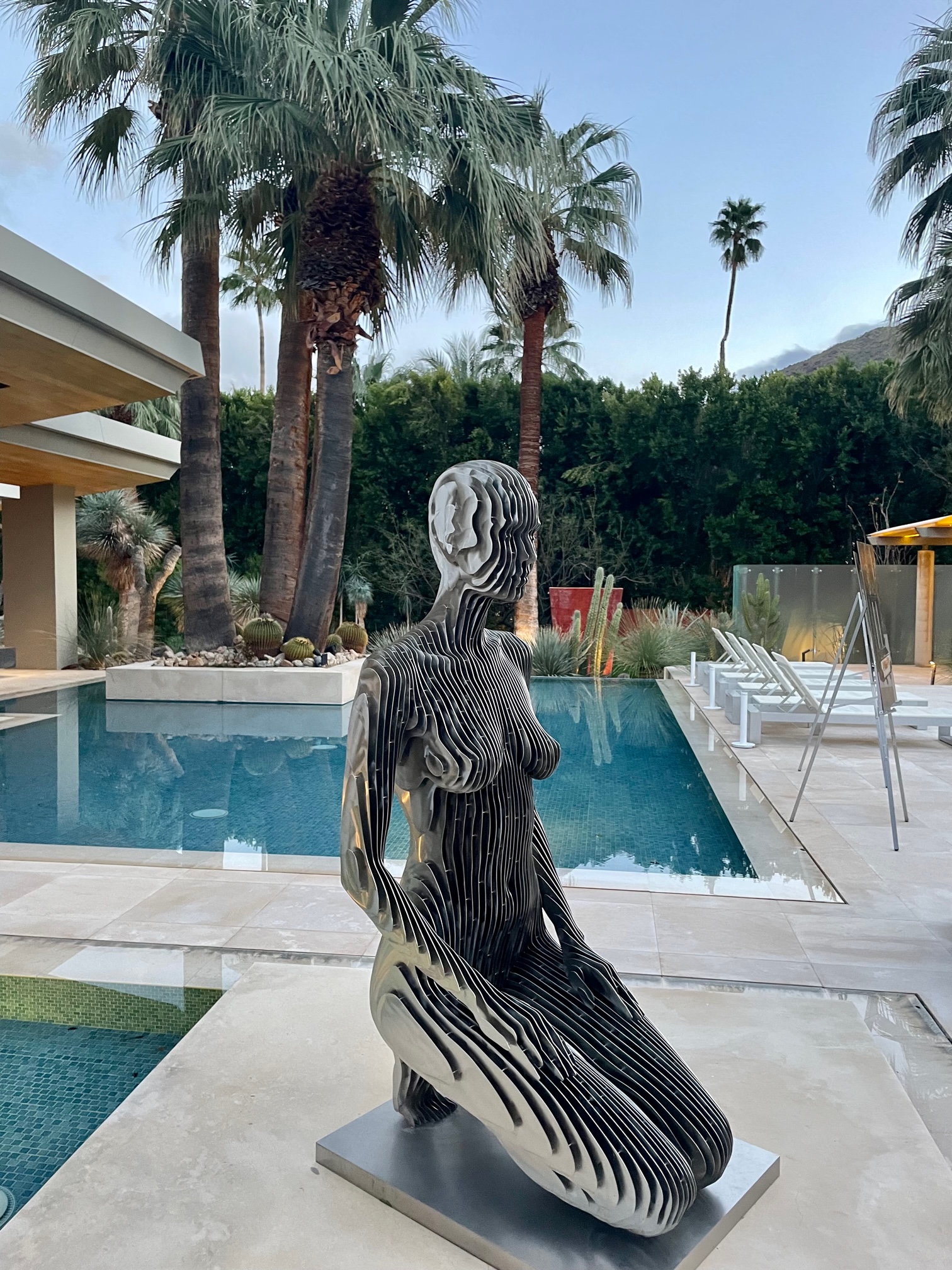 Jill Weinlein
Darius Alavi-Ellis, marketing director of Globe-Trotter said, "We are delighted to be working with Visit Greater Palm Springs on the first partnership of its kind, combining luxury products and curated experiences, all inspired by an iconic destination. We know that Palm Springs has a strong aesthetic tradition and are excited for our global community to see that come to life in the form of carefully designed Globe-Trotter products."
Globe Trotter was established in 1897, and the shape and style of many of its products remain unchanged. 'Production takes place in England,' said Ellis. 'We continue to apply the same attention to detail, using many of the same production methods and machinery of the Victorian era.' He thought The Ware Estate was the perfect setting for his luggage pieces. 
Located in the premier celebrity neighborhood of Old Las Palmas, this desirable estate was once owned by the Maybelline Family. In the early 2000's fashion designer Marc Ware purchased the property and transformed it into a 6,000 sq.ft. main estate, and two separate casitas that total a little over 2,000 sq.ft. The current owners Mr. and Mrs. Cashman filled the home with beautiful art inside and outside. Glass art includes pieces from the world-famous Dale Chihuly. There is also a special glass ice cubes piece by world-renowned sculptor, Joeseph McDonnell on display.
The Ware Estate is available to rent for photo and film shoots. Globe-Trotter Palm Springs luggage pieces start at $1,495.



[ad_2]

Source link
John Miller has been writing about science, gaming, and tech culture for over a decade. He's a top-rated reviewer with extensive experience helping people find the best deals on tech and more.